While it is every property owner's dream to have their home or building look like a model, the most prominent furnishing, the carpet, will have the biggest impact on the look and appearance of each room. However, this can't be done with only regular vacuuming as it is not able to reach deep within the fibers and remove the deeply embedded dirt and debris. You may even notice that the carpet can start to look worn-down and deteriorated over time; therefore, it will need a professional cleaning to have it returned to its original, like-new condition.
ServiceMaster by Crossroads is available in the Fishers, IN to provide professional carpet cleaning services to both residential and commercial properties. With an advanced cleaning technique, products, and equipment, our technicians are able to remove all deeply embedded debris from the fibers of all carpet types. With our services, we will ensure your satisfaction after seeing your carpet restored to a like-new condition.
Professional Carpet Cleaning Rather Than Vacuuming
While the types of carpeting fibers will differ in a residential property compared to commercial, they both receive heavy foot traffic. They will also become deteriorated and discolored over time if they are not cleaned professionally on a regular basis. This can even lead to a shortened carpet life as the dirt and debris accumulate to cause severe wear and tear to the furnishing.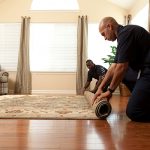 ServiceMaster by Crossroads highly recommends to have a professional carpet cleaning at least once a year to prevent the accumulation of debris within the fibers. Within these services, our specialists use special cleaning products and equipment to treat each area of the carpet and remove all deeply embedded soil. Our advanced cleaning technique, called the hot water extraction method, is guaranteed to restore the original color of the carpet, returning it to a like-new condition.
Skilled and Experienced in Professional Cleaning
Other areas not contained within a room, such as the stairs and hallways, are given special treatment as they are those that receive the most traffic out of any area. Our technicians are also familiar with all major carpet brands as they are knowledgeable of which products to use for each type of material. We will also inspect for any spots and stains, pre-treating them with a special spot-removing chemical to prepare them for the deep cleaning process. Finally, you can then look forward to a clean carpet that is similar to the models you see on TV.
Our carpet cleaning services include all of the following procedures:
Pre-inspection and spot treatment: As soon as ServiceMaster by Crossroads arrives for the appointment, they will first inspect the condition of the carpet and pre-treat any spots to prepare them for the deep cleaning.
Vacuuming: In order for the deep cleaning to be most effective, we will vacuum the area to remove all loose debris.
Deep Cleaning: Using our specialized cleaning technique, called the hot water extraction method, we will remove all dirt and debris that have been embedded deep within the fibers.
Scotchguard Application Option: This will provide extra protection to the fibers and keep them preserved from holding additional dirt and dust in the future.
Free Estimate
While vacuuming carpets can certainly remove the majority of dirt and debris, only professional cleanings can return a worn-down, discolored carpet to a like new condition. ServiceMaster by Crossroads is available at (317) 215-5199 in the Fishers, IN area to provide deep carpet cleanings for residential and commercial properties. Call us today and schedule a free estimate!
Related Carpet Cleaning Services
Professional Carpet Cleaning Services in Carmel, IN
Carpet Cleaning Company in Indianapolis, IN
---
Recent Reviews
---