Not many property owners think of the potential causes of water damage within their property; however, there are numerous risks for it to occur due to its long list of possible sources. These may include, but are not limited to the following: rainstorms, broken water heaters, dishwashers, or washing machines, sewage backups, burst or leaking pipes, and overflowing drains. While there are steps to take to prevent them from happening, professional equipment and products are needed to repair any destruction to your building structure after it has occurred.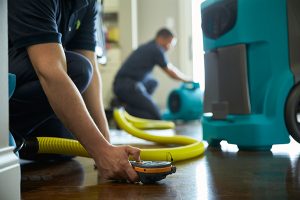 ServiceMaster by Crossroads is available 24/7 to provide professional water damage restoration services in the Fishers, IN area. Our technicians have each been IICRC-certified to provide high quality services that will restore all affected building materials both efficiently and effectively. We also work with your insurance claims agent to allow you to focus on other matters during the claims process.
Water Damage Cleanup
For professional water damage cleanup in Fishers, IN, call ServiceMaster by Crossroads at (317) 215-5199.
Effects of Water Damage
While there are many potential causes for water damage to occur, it is a common problem among many property owners. However, the damage incurred to all furnishings and porous materials can be detrimental, depending on the source of the damage. In addition, it can create electrical hazards if it has made contact with any light fixtures, outlets, or other electrical appliances throughout the home or building. Finally, any untreated water damage will run the risk for mold to grow and develop in dark areas, such as the basement, crawlspace, attic, behind the walls, etc.
This is why ServiceMaster by Crossroads must be called right away, so that treatment can be made immediately to prevent the damage from spreading. Upon arrival, our specialists will cut off the source and extract all excess water to avoid additional time and costs in repairs. We will then begin drying out the affected materials with professional dehumidification systems and air movers.
Our water damage repair services effectively cover the following:
Emergency Response and Open Communication: Our technicians will arrive right away to remove the source of the damage and provide you with updates every step of the way.
Expert Technology and Equipment: Each of our specialists have been trained to extract the water while restoring each building material both efficiently and effectively to restore them to their original condition.
Insurance Compliance: ServiceMaster by Crossroads will work with your insurance provider during the claims process to allow you additional peace of mind during the restoration process.
IICRC Standards: Each specialist has been IICRC-certified in addition to their continuous training in order to remain updated on the latest restoration trends and continuing to provide you with the highest quality services possible.
Available 24/7 for Water Damage Restoration
No matter the extent, water damage must never be ignored as the source may be hidden and continue to spread the damage to cause major destruction. This ultimately makes calling ServiceMaster by Crossroads essential when repairing the damage. We are available 24/7 at (317) 215-5199 in the Fishers, IN area to provide homes and business with emergency water damage restoration services.
---
Related Water Damage Cleanup Services
Water Restoration Services in Indianapolis, IN
Water Damage Restoration in Greenwood, IN
Water Damage Cleanup Company in Carmel, IN
Water Damage Restoration in Noblesville, IN
Water Damage Restoration Company in Westfield, IN
Water Damage Restoration in Zionsville, IN
---
Recent Reviews
---