It can be quite difficult to protect a home or building from water damage because excess water or moisture can get inside in so many ways.  Heavy rain and flooding can easily find its way inside, but water damage can also come from within from leaking appliances, burst pipes, overflows, and sewage backups.  The reason water damage is so dangerous is because it penetrates many common building materials, putting a home or building at risk for structural damage or mold growth.  You must call a professional as soon as you notice water damage to help stop its spread.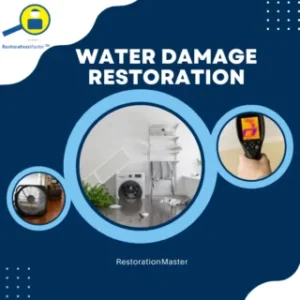 RestorationMaster provides water damage restoration services to remove flood water and excess moisture from homes and businesses in Carmel, IN.  Our technicians can effectively remove flood water with our water extraction equipment, and we will also completely dry and restore the damaged area.
Flood Cleanup
Call RestorationMaster at (463) 227-0790 for emergency water damage cleanup in Carmel, IN.
Water Damage Cleanup
Water damage can quickly become a serious problem because many common building materials including drywall, flooring, wood, and insulation are absorbent.  Water and moisture can easily spread through these materials, causing them to become warped, discolored, and weakened which can lead to major structural damage.  The presence of excess water can also create a very dangerous situation if it mixes with live electricity.  Mold is a common after effect of water damage because the moisture creates favorable conditions for it to grow.  Mold growth will further complicate the situation by making the property damage worse and introducing the risk of mold-related allergies.
It is important to contact our professionals immediately after sustaining water damage to prevent serious issues like mold growth and major structural damage.  We will immediately contain and remove the excess water and set up our drying equipment to extract the moisture from the affected materials.
Our water damage restoration services consist of the following:
Emergency Response: RestorationMaster can respond to your water damage emergencies 24 hours a day.
Advanced Methods and Technology: Our water extraction and drying equipment is the best available and we will completely dry affected materials as well as repair any resulting damage.
Insurance Assistance: We work with local insurance companies to help you file claims and coordinate payments.
IICRC Standards: Our IICRC-certified technicians are highly trained and equipped to provide the best possible water damage restoration services.
Available 24/7
If water damage has occurred in your home or business in Carmel, IN, make sure to call RestorationMaster right away.  Our technicians will stop the water from spreading any further and remove all water or moisture before it leads to major structural damage or mold.
We are available 24 hours a day at (463) 227-0790 for emergency water damage restoration. 
---
Related Water Damage Cleanup Services
Water Restoration Services in Indianapolis, IN
Water Damage Restoration in Greenwood, IN
Water Damage Restoration Company in Fishers, IN
Water Damage Restoration in Noblesville, IN
Water Damage Restoration Company in Westfield, IN
Water Damage Restoration in Zionsville, IN