When finding that your property has sustained critical damage from a natural disaster, the experience can be devastating. But upon realizing that numerous memories are at severe risk of becoming lost forever, it can be difficult to decide on taking the proper steps to have the property repaired. However, these steps are crucial in the recovery process as emergency reconstruction is vital towards saving the overall structure of the home or building.
ServiceMaster by Crossroads is available 24/7 in the Carmel, IN to provide emergency reconstruction services for both residential and commercial priorities, regardless of the type or extent of damage. Soon after receiving your initial call, our technicians will be on their right away to board up your property, saving the structure while devising the most effective plan for returning it to its original condition.
Commercial and Residential Property Repairs
Finding your property in a critical condition after having major destruction from a natural disaster can be overwhelming to handle. For families, all lives are put on hold until they can move back in while the future of a business can be at risk as business activities may not be able to be resumed right away. However, the ServiceMaster by Crossroads team of construction staff consists of trained and skilled handymen, sub-contractors, and carpenters to have your property on the fastest road to recovery.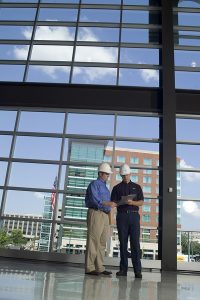 We are also experienced in all areas of reconstruction, restoration, and contracting to handle all jobs within the repair process. With our years of experience, you won't have to worry about hiring multiple contractors or companies. In addition, a field supervisor will be assigned to oversee the overall progress of the property while answering any questions you may have along the way.
Our team of reconstruction staff is able to handle all of the following:
Open communication with insurance claims agent
Carpentry and flooring
Painting and staining
Custom blueprints and architecture plan
Electrical work and plumbing
Water and fire damage restoration
Providing estimates
Reconstruction of stairwells
Permit and license handling
Controlled demolition
Roof repairs and restructuring
Final inspection
And more!
Reconstruction and Restoration
While we proudly provide construction and remodeling services after a natural disaster, ServiceMaster by Crossroads is also an expert in the field of restoration. So in the event that your home or building was affected by a fire or flood, we are able to restore all building materials and content to their original conditions. With advanced products and equipment, our technicians are skilled and knowledgeable to first remove the source, preventing the damage from spreading, and then treat the affected areas.
Contact Us
As a result of experience in construction and restoration, you can rely on ServiceMaster by Crossroads for any emergency building repairs. We are available 24/7 at (317) 215-5199 in the Carmel, IN area.
---
Related Reconstruction Services
Reconstruction Company in Fishers, IN
Professional Construction Services in Indianapolis, IN
Emergency Reconstruction Company in Greenwood, IN
---
Recent Reviews
---