Carpeting is a unique type of furnishing in a home or office because it has a major effect on the interior design of a space, yet it can be overlooked when it comes to providing maintenance.  A clean, stunning carpet can grab someone's attention, but so can one that is dirty, stained, or worn out.  Daily foot traffic causes a steady buildup of dirt and debris in the carpet fibers and vacuuming alone will not completely remove the buildup.  It takes professional carpet cleaning to remove the debris and restore the original color of the carpet.
ServiceMaster by Crossroads provides professional carpet cleaning services for homes and businesses in Carmel, IN using advanced cleaning products and methods.  Our carpet cleaning services are safe and effective for all types of carpeting and your carpet will be dry within one day of the cleaning.
Why Call for Professional Carpet Cleaning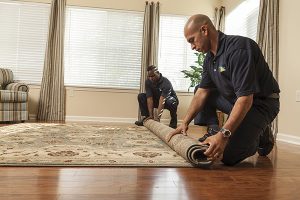 Whether in a home or office, the carpet is subject to consistent foot traffic that pushes dirt, dust, and other debris deep into the carpet fibers.  This buildup of debris will gradually dull the color of the carpet and eventually cause the carpet fibers to deteriorate.  Commercial carpeting and carpeting in high traffic areas are the most vulnerable to excessive debris buildup and wear and tear of the carpet fibers.  Dirty and worn out carpets not only make your office and home look poorly maintained, but they will also have shorter lives, causing you to replace the carpet prematurely.  However, hiring a professional to clean your carpeting every 6 to 12 months will preserve the life of your carpet and keep it looking its best.
At ServiceMaster by Crossroads, our technicians have the training and expertise to clean and restore all types of carpeting found in homes and offices.  We are familiar with the major carpet brands as well as the best methods to clean them.  We start by vacuuming and pre-treating stains in the carpet, and then treat them with our hot water extraction method.  Stairs, hallways, and other high traffic areas receive extra attention to ensure that they are properly cleaned and restored.  The stain removers, cleaning products, and equipment we use are the most advanced in the industry and they are free of residue and harsh chemicals.  Your carpets will be dry and safe to use within 24 hours.
Our complete carpet cleaning services consist of the following:
Deep Vacuuming: We vacuum the carpet first to remove all loose dirt and soil.
Spot and Stain Removal: Spots and stains are treated with our powerful stain removers.
Hot Water Extraction: The entire carpeted area is treated with the hot water extraction method. With this method, a solution consisting of hot water and a mild detergent is applied to the carpet to loosen deeply embedded debris.  The same machinery immediately extracts the solution back out along with the debris.
Scotchgard Option: We offer Scotchgard protection to help preserve the look of your carpet and protect it from stains.
Call Us for a Free Estimate
If the carpeting in your home or office in Carmel, IN is due for a cleaning, contact ServiceMaster by Crossroads to schedule an appointment for our carpet cleaning services.  You can schedule a one-time cleaning with our professionals or set up regularly scheduled cleanings to maintain your carpet consistently.
Give us a call at (317) 215-5199 for more information or a free estimate on your next carpet cleaning.
---
Related Carpet Cleaning Services
Professional Carpet Cleaning Services in Fishers, IN
Residential and Commercial Carpet Cleaning in Greenwood, IN
Carpet Cleaning Professionals in Indianapolis, IN
---
Recent Reviews
---