No home or business owner wants to experience the effects of a natural disaster because there is always a chance disasters such as storms, floods, fires, and accidents could cause serious damage to a home or building.  Each of these disasters have been known to cause significant exterior and structural damage that leave the building vulnerable and unstable.  If this type of damage is not covered or stabilized right away, the building may be at risk for further damage or even collapse.
ServiceMaster by Crossroads provides emergency board up services to immediately stabilize and secure homes and buildings in Carmel, IN that have experienced severe damage.  These services will provide temporary stabilization for your home or building while you arrange for restoration or construction services.
Importance of Stabilizing the Structure
When a home or building experiences severe damage to its structural core or exterior, it is immediately vulnerable to further damage from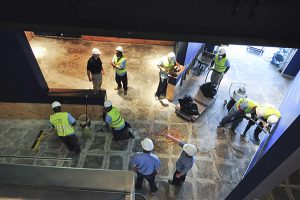 outside elements.  Holes in the roof or siding allow rain to leak in which can lead to significant water damage, and animals may also enter the home and make the damage worse.  If the structural core is damaged but not immediately stabilized, the home or building is at risk of collapsing.  It is important to stabilize heavily damaged homes or buildings immediately to prevent further issues until they can be properly rebuilt.
At ServiceMaster by Crossroads, our technicians are prepared to provide emergency board up services for homes and commercial buildings.  We will board up any openings in the siding or roof to keep the building protected and stabilize the structural core to keep it standing.
You can expect the following from our emergency board up services:
Coverage of holes and openings
Tarping of the roof
Temporary enclosures
Barricades and temporary fencing
Available 24/7
If you experience severe damage to your home or building that leaves it in an unstable condition, it is important to take action right away.  Our technicians at ServiceMaster by Crossroads are prepared to secure heavily damaged homes and buildings in Carmel, IN with our emergency board up services.
You can reach us 24 hours a day at (317)215-5199 to respond to your emergencies.
---
Related Sewage Cleanup Services
Professional Board Up and Tarping in Fishers, IN
Board Up Services in Indianapolis, IN
Emergency Board Up Services in Greenwood, IN
---
Recent Reviews
---