A natural disaster such as a flood can leave plenty of destruction in its wake and there are times when your property gets severely impacted by it. Regardless of how much you try and which methods you use, it may not always be possible to protect your home from flooding. In case your property has suffered any kind of water damage from a flood disaster, we at ServiceMaster of Fremont can help with restoring your property and belongings.
We provide excellent and reliable flood damage restoration services for homes and businesses in Fremont, NE. We act very quickly and start on restoration procedures that are aimed at mitigating the damage and bringing your home back into a livable condition.
What Our Flood Damage Restoration Services Cover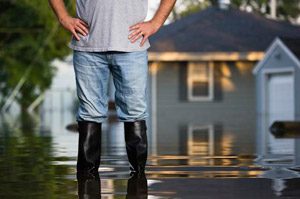 With years of experience behind us, we are able to handle even the most extensive flood damage in an expert manner. We first carry out a very detailed inspection and assessment to determine the extent and severity of the damage. Once we have this information, expert solutions & recommendations will be provided along with an estimate for the job.
All of the following procedures are included in our flood cleanup services:
24/7/365 Availability and Emergency Response – Our technicians are available at all times of the day to respond to flood damage emergencies.
Water Extraction – Upon our arrival, ServiceMaster of Fremont will immediately extract all standing water, preparing to set up our professional equipment for the drying process.
Dehumidification – The first thing we focus on is getting the indoor areas as clean and dry as possible. We position large high–capacity air movers in various areas of your property and get these spaces as dry as possible.
Reconstruction – If the damage to the structure is severe, we also provide reconstruction services. This kind of a situation is assessed very carefully before we recommend reconstruction as an option.
Final Inspection – We will conduct a final walk-through of your property with you to ensure that it is returned to its original condition.
Working with Insurance – We can assist with the claims process by providing any necessary details of the procedures performed during the service.
Emergency Response
All of the technicians on our team are IICRC-certified and insured to provide complete flood damage restoration services. If you have flooding in your home or business, contact us for flood damage restoration in Fremont, NE. You can reach ServiceMaster of Fremont 24 hours a day at (402) 973-3858 for an emergency response.
---
Related Flood Extraction Services:
Flood Damage Cleanup in Omaha, NE
Flood Damage Restoration in Elkhorn, NE
Water Damage Mitigation in Fremont, NE
---
Recent Reviews