Any amount of water on your property can cause serious damage and the more water there is, the worse the damage usually gets.  This makes indoor flooding extremely dangerous as it can spread far and deep through porous building materials and furnishings.  Whether the indoor flooding is due to a sewage backup, natural flood, or malfunction like a burst pipe, it needs to be addressed immediately to help prevent significant property damage and mold growth.
ServiceMaster of Sarpy County provides complete flood damage cleanup services in Papillion, NE to help homes and businesses that have been affected by indoor flooding.  Our technicians are trained and equipped to restore water damage using advanced water extraction equipment and we can also dry the affected areas with our dehumidification process.  Once the flood water is removed, we will work on restoring the affected areas and materials.
Flood Restoration Papillion, NE
For emergency flood cleanup services in Papillion, NE and the surrounding areas, contact ServiceMaster by Sarpy County at (531) 365-0565.
Indoor Flooding
Indoor flooding creates a very dangerous situation as it can cause immense damage that will threaten the structural integrity of your home or building, and the water may be contaminated with materials that can affect your health.  It is important to act fast because the water will quickly get absorbed in the surrounding building materials and furnishings which will spread the damage.
The following materials can become affected and even permanently damaged by the flood water: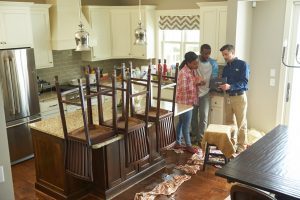 Wood
Flooring
Subflooring
Drywall
Furniture
Carpeting
Insulation
These materials will quickly become stained and start to warp when they absorb water.  Wood materials and drywall may buckle and eventually become rotted which can lead to serious structural damage.
The physical damage to your property is not the only thing you should be worried about as indoor flooding typically brings the following issues:
Mold growth: Water and moisture create the right conditions for mold to grow. Mold will not only cause additional damage, but also put your health at risk.
Contaminated water: It is possible for flood water to be contaminated as natural flood water from the outside may be mixed with sewage and other harmful materials and water from appliance malfunctions may also be dirty. You need to stay away from any water that may be contaminated.
Flood Cleanup Papillion, NE
When you call our professionals at ServiceMaster of Sarpy County, we will arrive quickly to help limit the extent of the damage and begin removing the flood water.  We use state-of-the-art water extraction equipment to ensure all standing water is removed and we use proven dehumidification methods to dry the affected areas and materials.
After the water extraction process, we will shift our effort to the restoration of the damaged areas and materials.  We use cleaning products and equipment to clean and restore damaged materials and we can also remove foul odors.  Building materials that are permanently damaged will be removed from your property.
If your home or business in Papillion, NE has experienced indoor flooding, make sure you call our professionals at ServiceMaster of Sarpy County right away.  We will arrive quickly to help reduce the spread of the damage and begin removing the flood water. Mold removal services will also be provided if needed.
Contact Us
Call ServiceMaster of Sarpy County at (531) 365-0565 for emergency flood restoration services in Papillion, NE.
---
Related Flood Cleanup Services:
Flood Restoration Bellevue, NE
Flood Restoration Lincoln, NE
Flood Restoration Hastings, NE
Flood Restoration Grand Island, NE
Flood Restoration Gretna, NE
---
Recent Reviews
May 30, 2020
Steve and Wendy Shaw
Omaha, NE
We were impressed from the beginning. The quick response on a weekend was appreciated and Jesus and Grant went above and beyond from start to finish. Jesus' communication was like none I've ever experienced. They were clean, informative, professional and efficient. I called ServiceMaster because my parents used them 20 years ago and had a great experience. I will recommend ServiceMaster whenever I can.