(402) 973-3858
The carpet in your home may be easy to overlook but it is often the most heavily used furnishing because of the daily foot traffic it experiences.  Consistent foot traffic causes debris such as dirt and dust to gather deep in the carpet fibers which over time can diminish the appearance of the carpet and cause deterioration of the fibers.  A dirty carpet can also contribute to poor indoor air quality as walking on the carpet can kick the accumulated debris up into the breathing air.
ServiceMaster Restoration Services provides residential carpet cleaning services for homes in Omaha, NE to remove deeply embedded debris from the carpet and restore its original appearance.  We can effectively clean any type of carpeting using our advanced cleaning equipment and we can also remove a variety of stains.
Professional Carpet Cleaning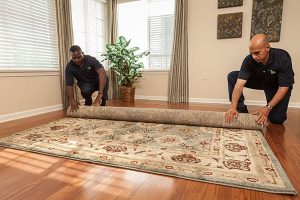 The technicians of ServiceMaster Restoration Services use our state-of-the-art, truck-mounted cleaning equipment to effectively deep clean and restore carpeting with the hot water extraction method.  A cleaning solution that contains green cleaning products and hot water is applied directly to the carpet fibers using a cleaning wand and the same wand is used to immediately extract the cleaning solution back out of the carpet along with the embedded dirt and debris.
If there are stains in your carpet, we will treat the stain separately with our specialized cleaners.
Our complete residential carpet cleaning services include the following steps:
Pre-Treatment: We start by pre-spraying your carpet to loosen dirt and debris and we will also treat stains at this stage.
Cleaning with Hot Water Extraction: We use the hot water extraction method over the entire carpet to remove embedded dirt and debris which will help restore the original appearance of the carpet and give it a longer life.
Trained Technicians: Each of our technicians have been trained to effectively clean all types of carpeting.
Long Term Protection: We keep your carpet protected with the application of a fabric and stain solution.
Convenience: Our carpet cleaning service can be completed in one visit and your carpet will dry within a day.
Free Estimate: We provide free estimates based on your cleaning needs and the size of the carpeted area.
Guarantee: We guarantee effective results for any carpet type in your home.
Free Estimates
A dirty or worn out carpet can affect the appearance, comfort, and cleanliness of the space as well as the impression that people may get when they visit your home.
The carpet cleaning services provided by ServiceMaster Restoration Services can effectively clean and restore your carpet to bring back its original appearance.
You can call us at (402) 973-3858 to schedule an appointment or get an estimate for our carpet cleaning services in Omaha, NE.
---
Related Carpet Cleaning Services
Residential Carpet Cleaning Services For Fremont, NE
---
Recent Reviews