Finding your property covered in finite dust and debris right after having construction or remodeling services can be frustrating and difficult to remove. This can include anything from dirt, leaves, screws, dust, and other items leftover from the construction company. While the cleanup process can certainly seem overwhelming, we can provide an easy solution!
ServiceMaster by Mason is available in the Hampton, CT area for the post construction cleanup of residential and commercial properties. In addition to removing all dust and debris from the home or building, our specialists are trained to deep clean all areas, effectively restoring a safe and clean environment.
Post Construction Cleanup Hampton, CT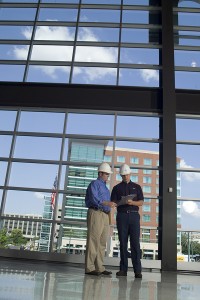 ServiceMaster by Mason uses advanced products and equipment to provide quality cleaning services, guaranteeing our customers' satisfaction. All of our cleaning techniques and products are approved to meet the requirements of the USDA and OSHA to allow your property to meet inspection guidelines.
We will work with you to establish a time that is most convenient for you to have us conduct the service. And if other contractors or technicians are still working on the property during the time of the cleanup process, we will also work around their schedules to avoid any conflicts.
We efficiently and effectively cover the following types of buildings in our post construction cleaning services:
Corner stores
Commercial buildings
Retail stores
Residential areas
Manufacturing buildings
Office buildings
Healthcare facilities
Daycares
We can effectively clean and provide:
Leather care and fabric panel cleaning
Dorm room cleaning
Detailed cleaning of interior windows, fixtures, and lights
Pressure washing
Upholstery cleaning
Deep cleaning of bathrooms and kitchens
Complete carpet cleaning
Use of HEPA vacuums and air filters to extract dirt and other debris
Cleaning of conveyer belts, systems, and production equipment
Hard surface floor cleaning
Cleaning of classrooms, computers, gym mats, and other equipment
Construction Cleaning
With over 30 years of effective and efficient cleaning services, ServiceMaster by Mason understands the need to return home or to work right away. That is why our technicians are dedicated to having the property completely cleaned as soon as possible in order to get you back on track again. After the process is finished, you can finally have some peace of mind knowing that all repairs and cleaning procedures are completed by trained and experienced professionals.
Get a Free Estimate
For professional post construction cleanup services in the Hampton, CT area, call ServiceMaster by Mason at (860) 455-4969.
---
Related Post Construction Cleanup Services:
Post Construction Cleanup Westerly, RI
Post Construction Cleaning Services Warwick, RI
Post Construction Cleanup Services Providence, RI
Post Construction Cleanup Contractors Manchester, CT
Post Construction Cleanup Professionals Waterford, CT
December 5, 2019
Donald Madura
Waterford, CT
I have a list of likes: 1. Quick response to my request for service. 2. Competent Crew - They worked together to get the job done expeditiously. 3. Courteous Crew - they listened to and understood my needs. 4. They were respectful of my home and property 5. The finished product was excellent - The odor from the damage was gone 6. I could easily move on to the restoration stage of the damages.
More Reviews