703-596-3171
Call or use the form on the right to request a quote for ServiceMaster NCR mold mildew removal services in Springfield, VA 22153.

What is mold?
Molds produce tiny spores to reproduce. Mold spores waft through the indoor and outdoor air continually. When mold spores land on a damp spot indoors, they may begin growing and digesting whatever they are growing on in order to survive. There are molds that can grow on wood, paper, carpet, and foods. When excessive moisture or water accumulates indoors, mold growth will often occur, particularly if the moisture problem remains undiscovered or un-addressed. There is no practical way to eliminate all mold and mold spores in the indoor environment; the way to control indoor mold growth is to control moisture.
Mold Damage Tips
It is difficult to prevent mold growth if your home or building is affected by excess moisture or has sustained water damage. Mold thrives in environments that provide it with moisture which is why you must keep the amount of moisture in your home under control to prevent mold growth. Inspect areas of your home vulnerable to water damage and check surfaces like walls and ceilings for moisture or condensation. Wiping off excess moisture is only a temporary solution unless you also fix the source of the moisture.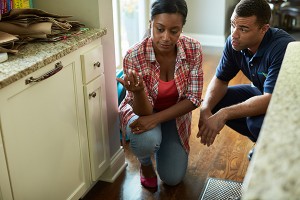 While the property damage caused by mold can be severe, the possible health effects may be an even bigger concern. There are many potential health effects from allergic reactions like coughing, nasal congestion, and skin irritation to breathing issues, respiratory infections, and other more serious problems. If you don't see mold growing in your home after sustaining water damage, that does not mean that you are not at risk for negative health effects. The World Health Organization has stated that homes or buildings that have sustained water damage may contain fungus like mold, bacteria, mycobacteria, volatile organic compounds (VOCs), and other toxins that can lead to adverse health effects.
Because of the health effects caused by mold and its ability to spread, it is best for trained professionals to handle mold remediation. At ServiceMaster NCR, our technicians are trained to provide quality mold remediation services using industry leading methods and testing equipment. We will make sure that the mold does not spread and our highly accurate InstaScope testing system will allow us to find and remove all hidden mold growth.
Mold Remediation
Because moisture is an essential part of mold growth, it is vital to cleanup the mold and get rid of excess water or moisture. Removal of mold, mildew, fungi and other potential toxins requires trained, experienced personnel and many times the services of industrial hygienist (IH) in order to determine the magnitude of the indoor air problem. No matter the emergency you face, you have a better chance at saving your property and possessions if you react quickly and call in the mold cleanup professionals at ServiceMaster NCR, Springfield VA 22153.
ServiceMaster NCR, Virginia, mold remediation services include drying the moldy surfaces and disinfecting damaged areas. ServiceMaster technicians dispose mold contaminated materials in sealed bags/sheets as part of the mold remediation. Proper disposal of contaminated materials to prevent releasing mold particles into the air is an important part of mold mildew removal and restoration.
We also provide mold remediation services for:
Alexandria, VA
Washington DC
Ft. Washington MD
Reston VA
Arlington VA
Falls Church VA
Mclean VA
Bethesda, MD