RestorationMaster
(202) 952-3660
Hoarding is a complicated disorder that stems from deeper anxiety issues and the behaviors that result can have serious implications for those affected and their families.  Because of the underlying anxiety, people who hoard have the inability to throw anything away, allowing their homes to fill up with a wide variety of items.  As the hoard grows, the conditions in the home become more dangerous as the pile of items can block off areas and harbor hazardous materials such as mold and bacteria that can affect the health of those in the home.  RestorationMaster provides hoarding cleaning services in Springfield, VA to help those that struggle with hoarding.  We take a respectful approach to hoarding cleaning that involves the affected individual and we use advanced cleaning products and equipment to effectively clean the home.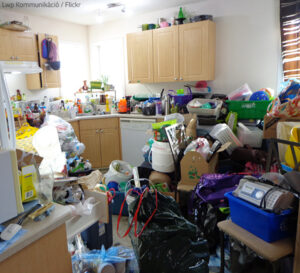 When someone is dealing with hoarding issues, they tend to avoid reaching out for help because they are embarrassed by the condition of their home.  Therefore, a trusted friend or family member must help the individual understand the importance and the urgency of getting their home cleaned up.  The technicians of RestorationMaster are experienced in dealing with hoarding cases and we make sure to treat the affected individual with respect while actively involving them in the cleaning process.  As the hoarded items are removed from the home, the individual ultimately decides whether they should be thrown away or kept.  Our cleaning products and equipment are the best available which allows us to thoroughly clean and sanitize the home and we can also handle the removal of biohazard materials.
Each of our technicians has been certified, licensed, and insured to complete hoarding cleaning projects within the guidelines of OSHA, the EPA, and the Department of Transportation.  Our hoarding cleaning process includes these steps:
Decontamination: We make sure the home is completely disinfected after the unwanted items have been removed.
Odor Removal: Any foul odors left behind can be removed with our deodorization process.
Proper Disposal: We will donate, recycle, or throw away items that are not kept and send biohazard materials to a licensed medical waste facility.
Call us for Hoarding Cleanup in Springfield, VA
If does not take long for a hoarding case to become serious so make sure you reach out to an affected friend or family member as soon as you notice a problem.  RestorationMaster is here to help those affected by hoarding in Springfield, VA clean out their home effectively and restore it to safe and healthy living conditions.
You can call us anytime at (202) 952-3660 for hoarding cleaning services.
---
Related Hoarding Services
Hoarding cleanup – Woodbridge, VA
Hoarding cleanup – Manassas, VA
Hoarding cleanup – Fredericksburg, VA
Hoarding cleanup – Sterling, VA
Hoarding cleanup – Stafford, VA
Hoarding cleanup – Spotsylvania County, VA
Hoarding cleanup – Montclair, VA
Hoarding cleanup – Marumsco, VA