ServiceMaster of Greater Washington
If left to their own devices, individuals with a hoarding habit can create a dangerous and unsanitary living environment for themselves. As items continue to pile up in pathways throughout the home, tripping, falling, and fire hazards will begin to form. If you know a loved one or a tenant who is in need of assistance with cleaning up their hoarding situation, it's best to reach out to a professional home remediation team. Such experts can help provide hoarding cleaning in an effective and compassionate manner.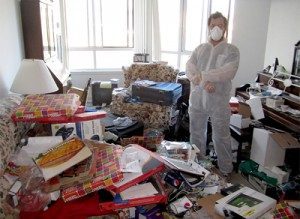 ServiceMaster of Greater Washington provides hoarding cleanup in Montclair, VA. Our technicians are IICRC-certified and available 24/7 to respond to calls about hoarding situations and can flexibly schedule an appointment. Our professionals will empower the affected individual in the decision-making process of the hoarding cleanup plan. Then, we will work together to clean the home or estate of excess items and garbage, and send these items to donation and recycling facilities.
Our hoarding services in Montclair, VA include the following steps:
Phase 1: We will open a dialogue with affected individuals to build trust. Without this relationship, our hoarding services will be ineffective.
Phase 2: Once an understanding has been reached, we will develop and implement a hoarding cleaning plan. We include the input of the affected individual in this process when it comes time to determine what gets thrown away, recycled, or donated.
Phase 3: To assist individuals with their hoarding habits going into the future, we create an at-home sanitization plan for them to follow. We follow up with them regularly to check for improvement.
Contact Us for Hoarding Cleanup in Montclair, VA
If you have a tenant or loved one affected by a hoarding habit, contact ServiceMaster of Greater Washington for professional hoarding services.
Our technicians are licensed and available 24/7 to respond to hoarding cases in estates, homes, and apartments throughout Montclair, VA
Contact us at (540) 773-2083 for hoarding cleanup in Montclair, VA.
---
Related Hoarding Services
Hoarding cleanup – Woodbridge, VA
Hoarding cleanup – Manassas, VA
Hoarding cleanup – Fredericksburg, VA
Hoarding cleanup – Sterling, VA
Hoarding cleanup – Stafford, VA
Hoarding cleanup – Spotsylvania County, VA
Hoarding cleanup – Leesburg, VA
Hoarding cleanup – Marumsco, VA
See All Reviews