703-596-3171
We can't escape mold because it is a constant presence in the natural environment but when mold growth appears in your home or building, it can lead to a range of problems. Mold growth is more likely to appear as a result of excess water or moisture and it can cause considerable damage to the affected surfaces. Removing the mold is a difficult and dangerous job and should be done by certified professionals. ServiceMaster NCR provides mold remediation services in McLean, VA to remove mold and restore the affected surfaces. We use the most innovative mold remediation methods and testing equipment of the industry to completely rid your home or building of all mold growth.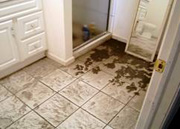 Mold growth can appear virtually anywhere because it only needs moisture and a food source to thrive. The most common food source for mold is cellulose which is in building materials including drywall and wood. Because of this, mold can devour the affected surfaces and cause irreversible damage if given enough time. In addition to property damage, mold causes health issues that include a variety of allergic reactions and even respiratory infections in extreme cases. We help minimize the damage and health risks by keeping the mold growth contained and we keep our technicians safe by using personal protective equipment (PPE).
Our mold remediation services include these basic steps:
Complete evaluation of the mold growth
Environmental engineering controls
Restorative drying
Total mold remediation
Pack-out and storage
InstaScope Testing System
An important part of mold remediation is testing to find and remove every bit of the mold growth. In the past, mold remediation providers searched for hidden mold by removing drywall which is intrusive and costly. We use the highly accurate InstaScope testing system to locate hidden mold by testing the airborne level of mold spores. We get a baseline measurement of the airborne mold level outside the home or building and then test every room and compare the results to the baseline. Areas with elevated mold levels are targeted for remediation.
Trifect Mold Remediation Method
After we have located all mold growth with the InstaScope testing system, we start the remediation with the Trifect mold remediation method. This innovative mold remediation method allows us to remove all visible and hidden mold without removing drywall for about half the cost of traditional remediation procedures. The Trifect mold remediation method includes these steps:
Surface Application: We use a topical solution to remove visible mold growth.
MAG 50: Submicron aerosol decontamination is used to remove all mold growth including hidden mold.
InstaScope Verification: We use InstaScope testing to make sure that all the mold has been removed.
Mold Damage Tips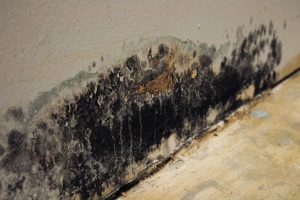 Mold growth has the potential to appear in your home or building at any time because it is caused by excess moisture or humidity. That is also why you are likely to experience mold growth after experiencing water damage. The best way to prevent mold growth is to remove excess moisture from your home and act immediately after sustaining significant water damage. Look for surfaces in your home that are wet from condensation or a leak and wipe up the water immediately. The source of the moisture must be fixed as well to stop the problem from reoccurring.
When dealing with mold, property damage should not be your only concern. Exposure to mold can lead to many health effects including runny or stuffy nose, coughing, skin irritation, and itchy eyes or throat, and significant exposure can lead to more serious issues like respiratory infections. The World Health Organization has said that contaminants and other inflammagens such as bacteria, mycobacteria, fungus, volatile organic compounds (VOCs), and others are likely to be present in water damaged buildings (WDB), even if there is no visible growth.
If you find small amounts of mold in your home, you can clean the affected surface yourself with a solution of water and a mild detergent. However, you should never try removing a significant amount of mold yourself because you could make the problem worse or put your health at risk without the right training and equipment. Our technicians at ServiceMaster NCR are ready to provide mold remediation services in McLean, VA using our highly effective Trifect mold removal method and our InstaScope testing system will help us find and remove all hidden mold in your home.
Mold growth cannot be ignored so call ServiceMaster NCR the instant you notice mold in your home or building in McLean, VA. Our highly effective and cost efficient mold testing and remediation methods are among the best and we can handle any size mold contamination. Call us 24 hours a day at 703-596-3171 for more about our mold remediation services in McLean, VA.
We also provide mold remediation services for:
Alexandria, VA
Washington DC
Ft. Washington MD
Reston VA
Arlington VA
Falls Church VA
Springfield VA
Bethesda, MD
April 18, 2020
D'mario Headen-Vance
WASHINGTON, DC
April 11, 2020
Zelda Cook
Gainesville, VA