703-596-3171
When a fire occurs, there is usually no warning and it can very quickly cause a lot of damage. After the fire is put out, the there is still the possibility of further damage as soot and corrosive byproducts can continue to tarnish objects and surfaces. This damage becomes permanent if it is not cleaned up within a day or two of putting out the fire. ServiceMaster NCR provides fire and smoke damage restoration services in McLean, VA to cleanup and restore homes and businesses that have sustained damage from a fire. You can trust our trained and experienced technicians to provide effective services for any size fire loss.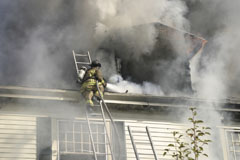 A fire can cause many layers of damage as the flames char everything they touch and the soot and corrosive byproducts settle beyond the areas reached by the flames to cause additional damage. It is important to call ServiceMaster NCR for fire damage restoration immediately to help contain the damage and clean it up before it becomes permanent. Our technicians have the certification and right equipment to handle the cleanup and repair of homes and buildings after a fire. The fire damage restoration services we provide include these basic steps:
Pre-cleaning of the damaged areas
Content cleaning
Content pack-out
Cleaning and restoration of affected surfaces
Deodorization
Smoke Damage Restoration
The majority of the damage caused in a fire is not from the fire itself, but from the smoke and soot that hangs around after the fire is out. Soot and oily smoke residue continues to spread along surfaces and objects which can result in etching or discoloration. We can remove soot damage using chemical cleaners that are safe and effective for household surfaces including brass, marble, porcelain, aluminum, stainless steel, carpeting, and upholstery. We can also treat lingering fire or smoke odors with our Nano tech filters, HEPA air scrubbers, and odor neutralizing agents.
Once the fire is out, you cannot hesitate to start the restoration process. Contact ServiceMaster NCR immediately if your home or business in McLean, VA has been affected by fire. We will keep the damage contained and restore furnishings, structural elements, and objects damaged by the fire or smoke. You can reach us 24 hours a day at 703-596-3171 for fire damage emergencies in McLean, VA.
February 6, 2020
Sanjay Bhandari
McLean, VA