At ServiceMaster NCR in Ft. Washington, MD 20744, our professional team is fully qualified to manage the cleanup process that comes after a fire takes place. A fire in the home can make some or all of your house inhabitable for lengthy period of time. The chemicals that are released from a home fire can also be toxic. Pro Kleen specializes in the cleanup and removal of these toxic elements as well as the overall cleanup of the fire affected areas.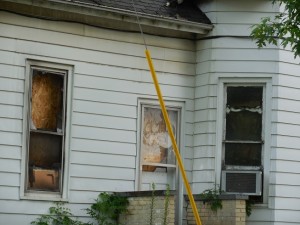 Fire Cleanup
Because of the time sensitive nature of a fire cleanup process we are available when you need us the most. The sooner you can call ServiceMaster NCR in Ft. Washington, MD 20744, and get the cleanup process started the faster you will be able to rest easy knowing that it is being taken care.
Our smoke and fire damage restoration services include:
structural damage assessment
emergency board-up and tarping
structural bracing and shoring
removal of soot deposits and smoke
cleaning of all surfaces (masonry, concrete, brick, block, drywall, wood, paint, metal, carpet, tile, glass)
water and chemicals removal
demolition and debris removal
reconstruction
contents restoration
For professional smoke and fire damage restoration services in Ft. Washington, MD 20744, call ServiceMaster NCR 24/7 at 703-596-3171.
April 6, 2019
Edward Prokop
ALEXANDRIA, VA
March 16, 2019
Julio Melgar Cruz
Woodbridge, VA
February 12, 2019
Aaron Bauknight
Upper Marlboro, MD
They responded quickly and came on the day they said they would come. I was comfortable enough with the company to leave a key as I would be out of town while they performed the work. I was pleased that when I returned, the work was clean. I called the office becuase there were two electronic items they moved becuase of the water damage. I couldn't find them, so Icalled and they told me exactly where those items were located and gave me a full report on the repairs.