Fires can cause major damage to your home or business. When the fire has been put out, smoke and soot, and other dangerous byproducts are left over, which can harm your belongings and your health. Therefore, it is important to start the restoration process as soon as possible. Once emergency services have put out the fire, you can call our restoration professionals to start restoring the damage.
Top To Bottom Restoration offers fire damage restoration services to homes and businesses in Crofton and Lanham, MD. We make sure to remove smoke and soot and their damaging byproducts so that you can safely use the space. You can have peace of mind knowing that we will clean your space quickly and efficiently.
How Fire and Smoke Damage Property
Fires can cause major damage to your property by burning everything in their path. Fire can melt various materials and objects and can make your property structurally unstable. Additionally, smoke and soot can cause damage to your belongings and to your health. Smoke and soot will spread and settle on materials and cause permanent damage without proper cleaning and restoration.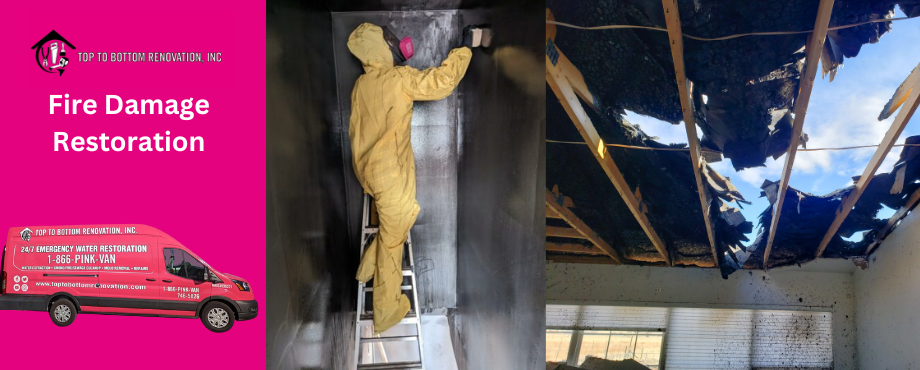 Experienced Fire Damage Restoration
Top To Bottom Restoration offers a full range of fire and smoke damage restoration services in Crofton and Lanham, MD. Our restoration services include repairs to the structure, water damage removal, smoke and soot removal, and much more. We will respond to your call right away and contain the damage, so it doesn't spread further.
Our fire damage restoration services include the following:
Help filing insurance claim: We make sure to keep the costs of the restoration low so that your insurance will cover the damage.
Return to normalcy:We always work quickly and efficiently to ensure your property is returned to its pre-fire state so you can start using it and return to your normal life activities.
Minimize future problems and expenses:We check for any hidden issues caused by mold, water, smoke, and soot so we can avoid future problems that will cost you more.
For more information on fire damage restoration, watch RestorationMaster video:
These are the steps we take during our fire and smoke restoration process:
Emergency board-up and tarping: We make sure to secure and stabilize your property by boarding up and tarping windows and doors and stabilizing the structure itself.
Water extraction and dry out:We remove any excess water leftover from the fire department putting out the fire.
Soot and smoke removal:We clean and restore all materials and surfaces affected by smoke and soot by using our specialized cleaning products and restoration methods.
Deodorization and disinfection:We will make sure to remove all odors from your property and disinfect all spaces to ensure there is no mold growth.
Rebuild and restoration:Our highly skilled technicians will repair all damage caused by fire and restore the property back to its original state.
Call Top To Bottom Restoration for Fire Damage Restoration in Crofton and Lanham, MD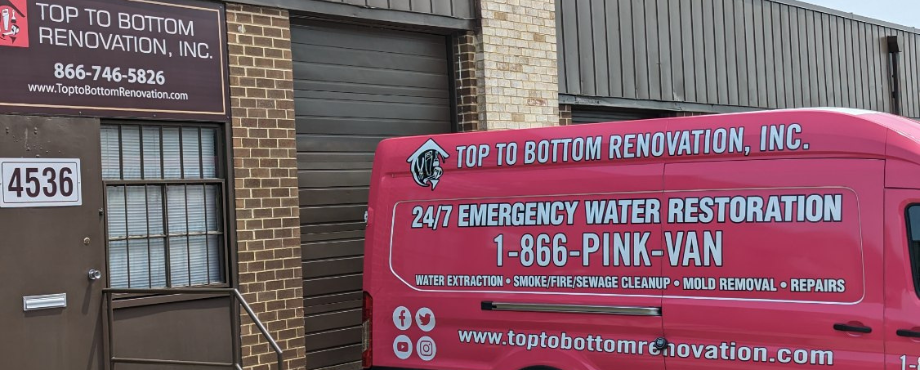 If your property has been affected by a fire, make sure to call our professionals for a full range of fire restoration services. We will start the restoration process as soon as you call us to minimize the damage by containing it, and then create a restoration plan that we will follow until your property has been fully restored.
Call Top To Bottom Restoration at (301) 830-4187 for fire damage restoration in Crofton and Lanham, MD.
---
Fire damage related cleanup & repair services
5-star Fire Restoration in Mitchellville and Greater Landover, MD
Best Fire Damage Repair and Restoration in Greater Upper Marlboro, MD
5-star Fire damage cleanup & repair in Brandywine and Rosaryville, MD
Best Fire & Water Damage Restoration in Camp Springs and District Heights, MD
5-star Fire and Smoke Damage Restoration in Bowie, MD
---
Recent Reviews
Review by Denise Greene
Rating

"Top To Bottom is highly exceptional on every level from the quality of work to professionalism. This was my first time dealing with a flood as well as filing an insurance claim. Fred not only walked me through the process but was always available to the insurance company for their requests and visits. Unfortunately, I was out of state during the critical moments of the renovation. But, Fred went above and beyond to make a complicated situation extremely easy. His communication was thorough and consistent; and, he took the lead with other contractors to ensure that the project remained on schedule. Most importantly, I was completely at ease given the care Fred and his team took with our home. And, our kitchen looks beautiful!!! We are so fortunate to have found Top To Bottom!"
---
Review by Karen M
Rating

"OUTSTANDING!!! Fred and his team were professional, prompt, responsive and went way above and beyond in the services they provided. I contacted them to assist with water damage from a pipe that burst. His team handled the cleanup and water mitigation flawlessly. He always stayed in communication and responded to my calls, texts and questions. A week later I had a leak at another property and Fred was my first call. He handled the 2nd house as well and even identified additional things that needed to be addressed with the furnace, roof and mold. I'd give 6 stars if possible. ****** Call Fred. He'll get it done!"
---
Review by Kari Muhammad
Rating

"I can't recommend this company highly enough! Imagine getting a call in the middle of the night and being told that a pipe burst and your basement is filled ankle-high with water. That's what I was dealing with when I spoke to Fred at 4am. He immediately got a team out and they took care of the problem- getting up the water, cutting open the ceiling and the walls in several rooms. They took up the floor throughout the basement and installed heavy duty dryers. They came out everyday to assess the moisture level until everything was all dry. I was out of town while all of this was taking place, but Fred was very easy to work with and he called and/or texted me everyday! I didn't get the chance to meet him until 3 weeks later when he came by to pick up the payment. A true professional, who's company is licensed and bonded and my insurance company is very familiar with. Such a pleasure!"
---
See All Reviews