Top To Bottom Renovation, Inc.
If your property has sustained water damage, then it's imperative that you act quickly and contact a disaster restoration company. Whether the damage was caused by an internal issue like a leak or a natural event like a flood, your home or business can suffer serious damage if you don't address the problem promptly. Insulation, drywall, wood, flooring, and other porous building materials will absorb excess water and moisture. This can cause such materials to suffer structural damage as they become rotted, discolored, and warped. Furthermore, moisture encourages mold growth, which can lead to further damage and cause health problems without proper mold remediation.
With our complete water damage restoration services, Top To Bottom Renovation, Inc. restores homes and businesses in Crofton and Lanham, MD, that has sustained water damage. From small leaks to large bodies of standing water, the technicians we employ are properly licensed and equipped to handle all cases of water damage. We will extract all excess water and moisture from your property, and we will thoroughly dry out and restore damaged areas.
If sewage is present in the water, we are trained and equipped to provide complete sewage removal services as well.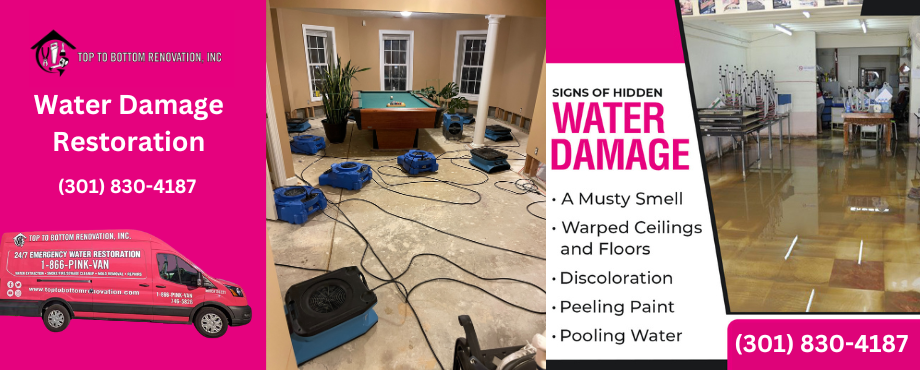 Risks of Water Damage
No matter the amount, excess water or moisture in a property is harmful because it will spread throughout the space. Porous building materials and furnishings absorb the water and moisture, spreading the water throughout the property. With such absorption, the materials will become damaged. If the water isn't extracted in a quick enough manner, the materials will continue to absorb the water which results in further damage.
This also increases the risk of mold growth. More significant problems like flooding and standing water will be more problematic, but even smaller issues like leaks can cause severe damage if not addressed by a property restoration company in a timely manner.
When our water restoration technicians come to your home or business, the first thing we do is a damage assessment. We will contain the water to prevent it from spreading and use our advanced water detection equipment.
Then, our water damage repair technicians proceed with the drying process to prevent further damage and limit the potential for mold growth.
The technicians we employ at Top To Bottom Renovation, Inc. have the proper training and certification to conduct water damage restoration services, so you can trust that we will provide quality results. Additionally, we will address any mold growth that has occurred as a result of the water damage.
Watch RestorationMaster video for more information on water damage restoration
The following can be expected from the water damage restoration services we provide:
Emergency Response: We are available on a 24/7 basis and will immediately respond to your call for help. Our technicians will conduct an assessment and promptly contain the water to prevent it from causing further damage.
Water Extraction and Drying: Using the latest water extraction and dehumidification equipment, we will extract all water and effectively dry all affected building materials and furnishings.
Cleaning and Restoration: After the water extraction, we will clean and restore all damaged areas.
Structural Repairs: We will repair and/or restore any structural damage that the water has caused.
Top To Bottom Renovation, Inc.'s technicians will help with the claims process by working with your insurance provider. To do this, we use the Xactimate program to figure out the pricing with your insurance company, and you pay only for the deductible and no other additional fees.
Call us for Water Damage Restoration in Crofton and Lanham, MD
In the event that your home or business has sustained water damage, you must act immediately by calling Top To Bottom Renovation, Inc. for our water damage restoration experts.
We employ certified and properly equipped water mitigation technicians who can handle any kind of water damage, including standing floodwater and overflows. With our work, we also offer a five-year limited guarantee.
Top To Bottom Renovation, Inc. can be reached on a 24/7 basis for emergency water damage restoration services in Crofton and Lanham, MD, and the neighboring areas by calling (301) 830-4187.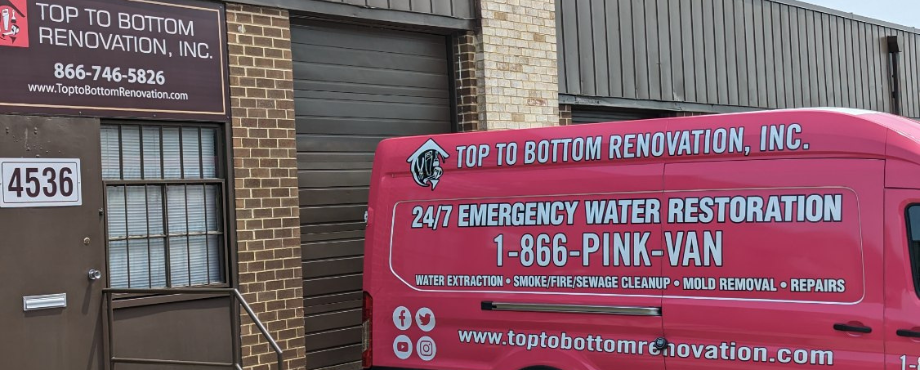 ---
Related Water Restoration Services
Water Damage Repair in Bowie, MD
Professional Water Extraction in Greenbelt, MD
24-hour Water Damage Cleaning and Drying in Greater Upper Marlboro, MD
Professional Water Damage Cleanup and Restoration in Brandywine and Rosaryville, MD
24-hour Water Damage Restoration technicians in Camp Springs and District Heights, MD
Professional Water damage remediation in Mitchellville and Greater Landover, MD.
---
Water Damage Repairs Frequently Asked Questions
What should I do immediately after water damage?
Try to stop the water from spreading further
Blot standing water with mopping or towels
Clean any affected furniture
Insert a piece of foil between wet flooring surface and furniture legs
Elevate furniture cushions and pillows to aid in drying
Lift drapes off the floor
Remove all carpets from wet floors
Activate the ventilation system to facilitate air circulation in the affected area.
Move all artwork and pictures to a safe, dry place
Open all closet doors, furniture drawers, and luggage to help dry them out
Immediately remove damp fabrics and hang them up to dry.
Hang up wet furs and leather material to dry at room temperature
How do you treat water damaged walls?
1. Try to locate the source of the water damage
2. Implement the drying and dehumidification methods for moisture to evaporate
3. Remove all the items attached to the Damaged Walls
4. Look for signs of mold
5. Call a water damage restoration company for a professional dry out and repair
What to do when water gets in your house?
Water can get into your house due to rainwater runoff, improper drainage, pipe bursts, or other reasons. When this happens, you should quickly stop the flow of the water, remove the existing standing water as much as you can, take pictures of the situation, call your insurance provider, and contact a water damage cleanup company so they can professionally assess the damage to the structure and provide repair and drying solutions.
---
Related Water and Flood Cleanup Tips and Information
Water damage can originate from a range of sources, such as natural floods or leaks from pipes. If a leak occurs, it's highly probable that your property's drywall will bear the brunt of water damage. Swiftly addressing this issue is crucial to prevent the drywall from enduring significant structural impairment, which could lead to more extensive problems. Moreover, timely action is vital to thwart the onset of mold growth, which can thrive in damp conditions. By promptly drying the water-damaged drywall, you not only safeguard its structural integrity but also mitigate the risk of potential mold-related complications.
Selecting the appropriate plumbing material for the water line in your fridge plays a pivotal role in both averting leaks and ensuring optimal water flow. When it comes to this choice, homeowners have three primary tubing options to consider: copper tubing, PVC or plastic tubing, and braided stainless steel tubing. Each of these materials possesses distinct properties that influence their suitability for the task at hand.
Category 3 water damage, often referred to as black water, represents the most severe form of water damage due to its inherent hazards. In contrast, category 1 water damage involves clean water and is generally more manageable due to its lower risk factors. Black water, categorized as the most dangerous type of water damage, can originate from several sources, including toilet overflows or stormwater mixing with sewage. This water contains waste materials, rendering it highly contaminated and posing significant health risks. The consequences of exposure to black water can range from the spread of diseases and infections to causing illnesses among individuals who come into contact with it.
---
Recent Reviews
Review by Denise Greene
Rating

"Top To Bottom is highly exceptional on every level from the quality of work to professionalism. This was my first time dealing with a flood as well as filing an insurance claim. Fred not only walked me through the process but was always available to the insurance company for their requests and visits. Unfortunately, I was out of state during the critical moments of the renovation. But, Fred went above and beyond to make a complicated situation extremely easy. His communication was thorough and consistent; and, he took the lead with other contractors to ensure that the project remained on schedule. Most importantly, I was completely at ease given the care Fred and his team took with our home. And, our kitchen looks beautiful!!! We are so fortunate to have found Top To Bottom!"
---
Review by Karen M
Rating

"OUTSTANDING!!! Fred and his team were professional, prompt, responsive and went way above and beyond in the services they provided. I contacted them to assist with water damage from a pipe that burst. His team handled the cleanup and water mitigation flawlessly. He always stayed in communication and responded to my calls, texts and questions. A week later I had a leak at another property and Fred was my first call. He handled the 2nd house as well and even identified additional things that needed to be addressed with the furnace, roof and mold. I'd give 6 stars if possible. ****** Call Fred. He'll get it done!"
---
Review by Kari Muhammad
Rating

"I can't recommend this company highly enough! Imagine getting a call in the middle of the night and being told that a pipe burst and your basement is filled ankle-high with water. That's what I was dealing with when I spoke to Fred at 4am. He immediately got a team out and they took care of the problem- getting up the water, cutting open the ceiling and the walls in several rooms. They took up the floor throughout the basement and installed heavy duty dryers. They came out everyday to assess the moisture level until everything was all dry. I was out of town while all of this was taking place, but Fred was very easy to work with and he called and/or texted me everyday! I didn't get the chance to meet him until 3 weeks later when he came by to pick up the payment. A true professional, who's company is licensed and bonded and my insurance company is very familiar with. Such a pleasure!"
---
See All Reviews