AdvantaClean of Bowie
If your property has sustained water damage, then it's imperative that you act quickly and contact a disaster restoration company. Whether the damage was caused by an internal issue like a leak or a natural event like a flood, your home or business can suffer serious damage if you don't address the problem promptly.
Insulation, drywall, wood, flooring, and other porous building materials will absorb excess water and moisture. This can cause such materials to suffer structural damage as they become rotted, discolored, and warped. Furthermore, moisture encourages mold growth, which can lead to further damage and cause health problems without proper mold remediation.
With our complete water damage restoration services, AdvantaClean of Bowie restores homes and businesses in Crofton and Lanham, MD, that have sustained water damage. From small leaks to large bodies of standing water, the technicians we employ are properly licensed and equipped to handle all cases of water damage. We will extract all excess water and moisture from your property, and we will thoroughly dry out and restore damaged areas.
If sewage is present in the water, we are trained and equipped to provide complete sewage removal services as well.
Risks of Water Damage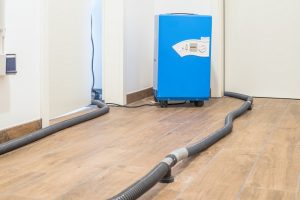 No matter the amount, excess water or moisture in a property is harmful because it will spread throughout the space. Porous building materials and furnishings absorb the water and moisture, spreading the water throughout the property. With such absorption, the materials will become damaged. If the water isn't extracted in a quick enough manner, the materials will continue to absorb the water which results in further damage.
This also increases the risk of mold growth. More significant problems like flooding and standing water will be more problematic, but even smaller issues like leaks can cause severe damage if not addressed by a property restoration company in a timely manner.
When our water restoration technicians come to your home or business, the first thing we do is a damage assessment. We will contain the water to prevent it from spreading and use our advanced water detection equipment.
Then, our water damage repair technicians proceed with the drying process to prevent further damage and limit the potential for mold growth.
The technicians we employ at AdvantaClean of Bowie have the proper training and certification to conduct water damage restoration services, so you can trust that we will provide quality results. Additionally, we will address any mold growth that has occurred as a result of the water damage.
The following can be expected from the water damage restoration services we provide:
Emergency Response: We are available on a 24/7 basis and will immediately respond to your call for help. Our technicians will conduct an assessment and promptly contain the water to prevent it from causing further damage.
Water Extraction and Drying: Using the latest water extraction and dehumidification equipment, we will extract all water and effectively dry all affected building materials and furnishings.
Cleaning and Restoration: After the water extraction, we will clean and restore all damaged areas.
Structural Repairs: We will repair and/or restore any structural damage that the water has caused.
AdvantaClean of Bowie's technicians will help with the claims process by working with your insurance provider. To do this, we use the Xactimate program to figure out the pricing with your insurance company, and you pay only for the deductible and no other additional fees.
In the event that your home or business has sustained water damage, you must act immediately by calling AdvantaClean of Bowie for our water damage restoration experts.
We employ certified and properly equipped water mitigation technicians who can handle any kind of water damage, including standing floodwater and overflows. With our work, we also offer a five-year limited guarantee.
AdvantaClean of Bowie can be reached on a 24/7 basis for emergency water damage restoration services in Crofton and Lanham, MD, and the neighboring areas by calling (301) 830-4187.
---
Related Services
---
Recent Reviews
Review by Nicholas Viddivo
Disaster Restoration
Rating

"Anthony and his crew from Advanta Clean of Bowie did some mold remediation and duct cleaning and sanitizing for us. They were friendly, prompt, and extremely thorough. My allergies are immediately better. They are a great value and I couldn't be happier with the service they provided. I highly recommend this company."
---
Review by Timothy Saddow
Disaster Restoration
Rating

"AdvantaClean of Bowie is a business that I would refer to anyone. The respond time and the service to prevent more water damage was impeccable. Upon entering my home, they quickly surveyed the water damage, took pictures for the insurance, and started the restoration process. I was very pleased with the service."
---
Review by David Effren
Disaster Restoration
Rating

"AdvantaClean of Bowie, and Anthony, the owner, were absolutely amazing. We had a flash flood that resulted in over four feet of water on our first floor. Anthony picked up the phone at almost 11pm and volunteered to come to our home right then. Anthony helped us assess what needed to be done and then worked flat out for almost 5 days to remove drywall, insulation, and all affected woodwork. The team then treated all of the remaining wood and studs to ensure no mold would grow. Anthony consulted with our neighbors and worked to help our community. Thank you AdvantaClean, you were truly a lifesaver for us."
See All Reviews