AdvantaClean of Bowie
Reconstruction After Disaster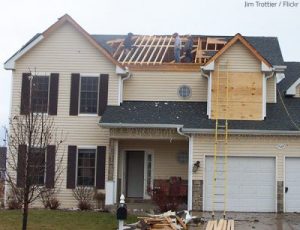 A worst-case scenario for many home and business owners is the prospect of undergoing an extensive reconstruction project due to major property damage. Severe storms, floods, fires, and even accidents can all be the culprit, but the results are unfortunately similar. In these situations, property owners will inevitably be faced with a lengthy, and stressful, period of time in which the home or building is reconstructed. Here at AdvantaClean of Bowie, we understand your concerns, and we do everything we can to provide you with peace of mind when you call us for our reconstruction services in Bowie, MD.
One of the very first things we do when we provide reconstruction services is stabilized the building. This requires an inspection and evaluation, as well as swift, targeted action. Our professionals have worked with a myriad of home and business owners, and know what to look for in order to spot damaged or unstable structural elements. Once this is completed, we can more safely implement a full reconstruction plan.
An added benefit of our highly trained professionals working to stabilize conditions right away is that it saves as many of your personal belongings as possible. Less skilled technicians may overlook certain areas or structural weaknesses, and this can result in further damage. Here at AdvantaClean of Bowie, you should expect nothing but the best. We even offer separate content cleaning & pack-out services to salvage your personal items.
Our overall efforts consist of a balance between restoration and construction work in order to get your property back to its original condition. In all aspects of restoration and construction, our personnel utilize state-of-the-art equipment and methodologies.
Our reconstruction services that you can expect from our talented team include:
Emergency Board Up and Stabilization
Construction Cost Estimates
Inspections
Acquisition of Permits
Project Management
Demolition and Debris Removal
General Construction (including carpentry, electrical work, plumbing, flooring, painting, siding, roofing, etc.)
Complete Reconstruction for Homes and Commercial Buildings
Assistance with Insurance Claims
As we stated before, we do everything we can to make sure that you do not feel overwhelmed throughout this scenario. Our processes are proven to work, and in a timely manner.
A few of the benefits of working with us include:
More streamlined insurance claims (since we are the only service provider you will be working with)
A good balance between restoration and construction work
Simplification of our efforts because we do not need to coordinate with other contractors
If you live in the Bowie, MD, area, and need reconstruction services for your home or business, give AdvantaClean of Bowie a call at (301) 830-4187
We can be reached 24 hours a day. We will get a service team out to your location as quickly as possible to start the construction process.
---
Related Services
---
Recent Reviews
Review by Nicholas Viddivo
Disaster Restoration
Rating

"Anthony and his crew from Advanta Clean of Bowie did some mold remediation and duct cleaning and sanitizing for us. They were friendly, prompt, and extremely thorough. My allergies are immediately better. They are a great value and I couldn't be happier with the service they provided. I highly recommend this company."
---
Review by Timothy Saddow
Disaster Restoration
Rating

"AdvantaClean of Bowie is a business that I would refer to anyone. The respond time and the service to prevent more water damage was impeccable. Upon entering my home, they quickly surveyed the water damage, took pictures for the insurance, and started the restoration process. I was very pleased with the service."
---
Review by David Effren
Disaster Restoration
Rating

"AdvantaClean of Bowie, and Anthony, the owner, were absolutely amazing. We had a flash flood that resulted in over four feet of water on our first floor. Anthony picked up the phone at almost 11pm and volunteered to come to our home right then. Anthony helped us assess what needed to be done and then worked flat out for almost 5 days to remove drywall, insulation, and all affected woodwork. The team then treated all of the remaining wood and studs to ensure no mold would grow. Anthony consulted with our neighbors and worked to help our community. Thank you AdvantaClean, you were truly a lifesaver for us."
See All Reviews