Top To Bottom Renovation, Inc.
Over the past decade, people have become more aware of indoor exposure to mold causing a variety of health effects and symptoms, including allergic reactions. Mold is the four-letter word that no one wants to hear in the context of their home or property. Mold is easy enough to handle when it is on an expired piece of bread, but what are you supposed to do when your attic or crawlspace is covered in mold? This is where we come in to help.
Top To Bottom Renovation, Inc. provides mold removal and also works to prevent future mold growth by offering tips to control humidity, fix water leaks and maintain proper indoor air circulation. Our Top To Bottom Renovation, Inc. staff is also certified for mold remediation through the Institute of Inspection Cleaning and Restoration Certification (IICRC).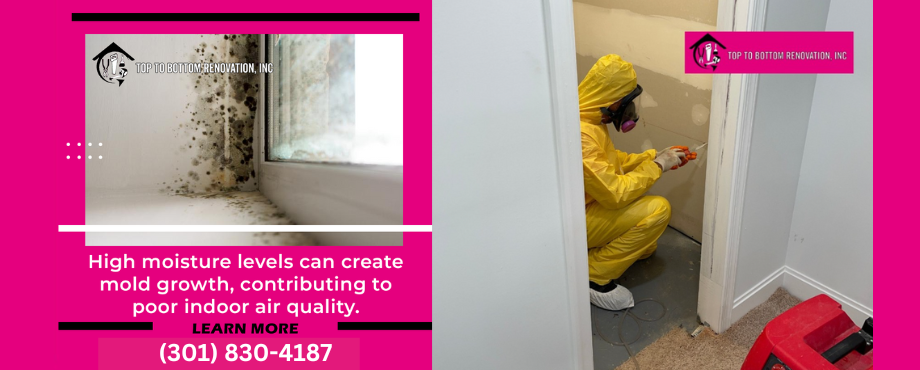 Black Mold Removal
There are many different types of mold. The one most associated with water damage is black mold. Black mold needs to be treated carefully, if improperly handled it can lead to the mold being spread everywhere. It can be tempting to try and clean out the mold yourself but this will often lead to further, more extensive damage. When dealing with black mold it is best to let certified experts handle it.
Mold grows in dark, moist areas. A common cause of a mold breakout is unnoticed water damage. Mold is something that needs to be taken care of properly as soon as possible because will gradually destroy the things it grows on. It is important to prevent damage to your building and furnishings; the best decision you can make is to bring in professionals.
Our Mold Removal Services:
Non-Salvageable Material Removal
Deodorization and Dehumidification
Water Source Elimination
Affected Content Removal and Decontamination
Watch RestorationMaster video for more information on mold remediation
Common Misconceptions Regarding DIY Mold Remediation
Many individuals are scared of the potentially high price that mold remediation can bring and attempt to clean the problem themselves. While in some cases this is a valid option, it is important that you know what you are doing so that you do not make the problem worse by trying to save money. Here are three common misconceptions that we often hear after coming to a job that was made worse by an individual attempting DIY mold removal.
Do not try to clean any mold with at-home remedies, such as bleach or vinegar. Any improper cleaning techniques can actually worsen the damage and cause it to spread further.
Do not paint or caulk over any moldy surfaces. This does not treat the problem, but in fact, makes the problem spread faster.
Do not touch any moldy surfaces directly as it can release its spores and pose severe health risks.
Creating a negatively pressurized area when cleaning mold is vitally important when trying to prevent the spread of spores. At Top To Bottom Renovation, Inc. we use containment and high-powered air scrubbers to clean the air as we clean the mold surfaces. That way we can stop the spread of mold in your home and bring your life back to normal.
Call Us for Mold Remediation in Bowie, MD
The key to mold control is moisture control. Our highly experienced team utilizing our inventory of specialized remediation equipment can undertake and successfully complete mold removal projects of any magnitude. If you've discovered mold in your home or business, it's essential to address it promptly for the safety and well-being of everyone involved. Take immediate action and reach out to Top To Bottom Renovation Inc. Our dedicated team is here to assist you in remedying the mold issue effectively. By contacting us at (301) 830-4187, you can have peace of mind knowing that we will expertly remove the mold from your property, meticulously clean all affected areas, and diligently restore your space to its original, mold-free condition. Don't hesitate to give us a call today and let us help you create a healthy and mold-free environment.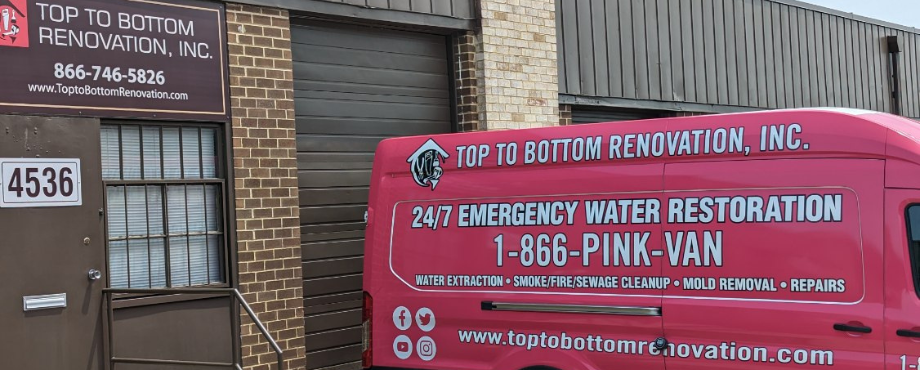 ---
Related Mold Removal Services
Mold Abatement in Mitchellville and Greater Landover, MD
24/7 Mold Mitigation in Greater Upper Marlboro, MD
Emergency Mold Remediation in Camp Springs and District Heights, MD
24/7 Mold Cleanup in Crofton and Lanham, MD
5-star Mold restoration in Greenbelt, MD
---
Recent Reviews
Review by Denise Greene
Rating

"Top To Bottom is highly exceptional on every level from the quality of work to professionalism. This was my first time dealing with a flood as well as filing an insurance claim. Fred not only walked me through the process but was always available to the insurance company for their requests and visits. Unfortunately, I was out of state during the critical moments of the renovation. But, Fred went above and beyond to make a complicated situation extremely easy. His communication was thorough and consistent; and, he took the lead with other contractors to ensure that the project remained on schedule. Most importantly, I was completely at ease given the care Fred and his team took with our home. And, our kitchen looks beautiful!!! We are so fortunate to have found Top To Bottom!"
---
Review by Karen M
Rating

"OUTSTANDING!!! Fred and his team were professional, prompt, responsive and went way above and beyond in the services they provided. I contacted them to assist with water damage from a pipe that burst. His team handled the cleanup and water mitigation flawlessly. He always stayed in communication and responded to my calls, texts and questions. A week later I had a leak at another property and Fred was my first call. He handled the 2nd house as well and even identified additional things that needed to be addressed with the furnace, roof and mold. I'd give 6 stars if possible. ****** Call Fred. He'll get it done!"
---
Review by Kari Muhammad
Rating

"I can't recommend this company highly enough! Imagine getting a call in the middle of the night and being told that a pipe burst and your basement is filled ankle-high with water. That's what I was dealing with when I spoke to Fred at 4am. He immediately got a team out and they took care of the problem- getting up the water, cutting open the ceiling and the walls in several rooms. They took up the floor throughout the basement and installed heavy duty dryers. They came out everyday to assess the moisture level until everything was all dry. I was out of town while all of this was taking place, but Fred was very easy to work with and he called and/or texted me everyday! I didn't get the chance to meet him until 3 weeks later when he came by to pick up the payment. A true professional, who's company is licensed and bonded and my insurance company is very familiar with. Such a pleasure!"
---
See All Reviews