Top To Bottom Renovation, Inc.
Because of the property damage and health issues it can cause, mold is a significant issue if found inside of your home or business. But for mold to grow, it needs moisture and a food source, which is why water damage restoration is important to contact quickly in the case of a leak or flood. The more time mold goes unaddressed, the more damage it causes your home or business, and the higher the risk for health issues.
Top To Bottom Renovation, Inc. provides mold remediation services in Crofton And Lanham, MD, to remove mold from affected residential and commercial properties. We employ certified technicians who, using proper property restoration techniques and equipment, will locate and remove all mold from your home or business.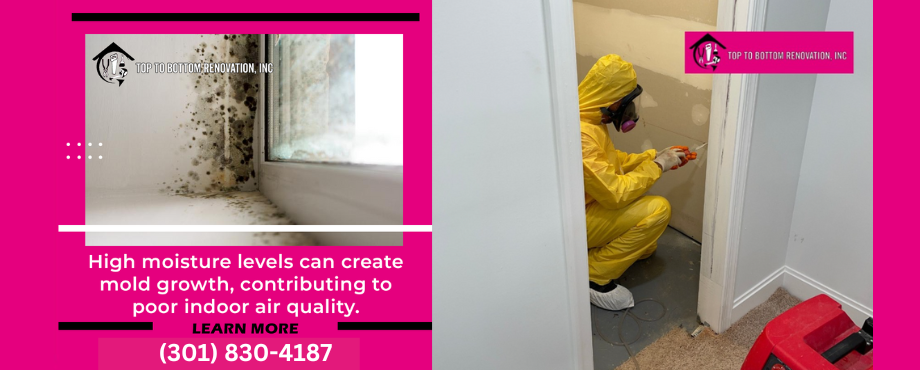 Problems Caused by Mold
Moisture is a key component for mold survival, which is why the fungus is more prone to develop in areas that have suffered water damage and in areas with high levels of moisture. Because it uses cellulose as a food source, mold often grows on carpeting, drywall, insulation, wood, and other building materials that contain cellulose. Whatever material mold grows on is being eaten away, compromising its structural integrity. Mold can also spread to unaffected areas once it appears.
In addition to the property damage that mold causes, there are also health concerns to worry about. Because it produces allergens and mycotoxins, mold can trigger fevers, runny noses, itchy eyes, sneezing, and other allergic reactions. If someone has been exposed to mold for a prolonged amount of time, then the health issues become worse, such as asthma and respiratory infections.
A professional disaster restoration company will have mold specialists to handle these types of cases.
Watch RestorationMaster video for more information on mold remediation
Professional Mold Removal and Mold Remediation
You can trust Top To Bottom Renovation, Inc.'s technicians to thoroughly remove mold from your property. Using advanced equipment and techniques, we will locate all cases of mold in your home or building including hidden mold.
The following steps are included in our mold removal services:
Mold growth assessment
Containment of the damaged area to prevent mold from spreading to new locations
Repair or replacement of affected materials and surfaces
We will also help manage your claim by working with your insurance provider, and working the pricing out so that you pay only the deductible.
Call us for Mold Removal in Crofton and Lanham, MD
Don't delay if you've encountered mold in your residential or commercial property. Take swift action and contact Top To Bottom Renovation Inc. right away. We guarantee a permanent removal of mold from your premises, complete cleanup of all affected areas, and a full restoration of your space to its original condition. Don't hesitate—call us today and regain a mold-free and healthy environment for your home or business.. Call Top To Bottom Renovation, Inc. for our mold remediation services if you have mold in your home or business. Our technicians will effectively remove all cases of mold from your property, restoring it to its previous condition.  We can be reached on a 24/7 basis by calling (301) 830-4187.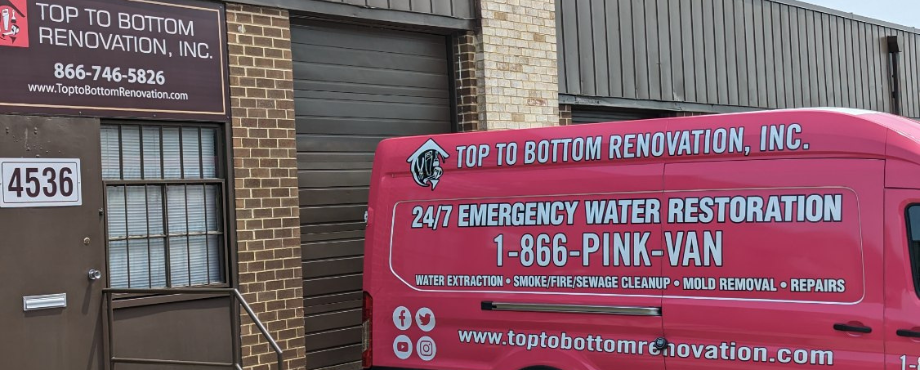 ---
Related Mold Removal Services
Professional Mold Elimination in Mitchellville and Greater Landover, MD
Mold Mitigation Experts in Greater Upper Marlboro, MD
Professional Mold Remediation in Camp Springs and District Heights, MD
Mold Cleanup Experts in Greenbelt, MD
Professional Mold restoration in  Bowie, MD
Mold decontamination Experts in Brandywine and Rosaryville, MD 
---
Helpful Mold Removal Articles:
We are offering you some helpful tips in case you are dealing with mold. Take into consideration that if you put off mold removal for too long, severe damage may occur. Do not underestimate the mold. You may be busy with work and family, but remember that you have to deal with mold on time. You should hire professional mold removal services.
The kitchen is one of the most susceptible areas of the house to mold growth and it is very easy for mold to occur there if preventative actions are not taken. It is important to keep kitchens mold-free because this is the same space in which food is prepared and consuming mold can be harmful. Preventing mold from growing in your kitchen is quite simple and it only takes a few preventative actions. Here are the steps to prevent mold from growing in your kitchen.
Time to get rid of that mold and mildew once and for all! These are the top FAQ about mold mildew clean up. Mold Mildew Cleanup FAQ. How to clean up Mold? How much does mold remediation cost? How to prevent mold? Do you have a mold problem?
---
Frequently Asked Questions about Mold Damage Restoration
How do you neutralize mold in the air?
For mold remediation in the air, the most common solution is an air purifier. Air purifiers can capture harmful particles, filter contaminated elements in your indoor air, and release fresh and clean air in return.
Can air purifiers remove mold spores?
There is no technology that is guaranteed to remove mold spores 100%. Air purifier plays a vital role in reducing the amount of mold spores. However, mold normally originates from porous materials within your house structure. As long as the root of mold growth remains in your house, it will continue to spread through the air of your living spaces.
Will opening windows reduce mold?
Yes, opening a window is a way to increase ventilation and create airflow for your room. It helps reduce and prevent further mold growth because mold likes to develop in a high-temperature and humid environment.
Why and How People Choose a Professional Contractor After a Home Disaster?
---
Recent Reviews
Review by Denise Greene
Rating

"Top To Bottom is highly exceptional on every level from the quality of work to professionalism. This was my first time dealing with a flood as well as filing an insurance claim. Fred not only walked me through the process but was always available to the insurance company for their requests and visits. Unfortunately, I was out of state during the critical moments of the renovation. But, Fred went above and beyond to make a complicated situation extremely easy. His communication was thorough and consistent; and, he took the lead with other contractors to ensure that the project remained on schedule. Most importantly, I was completely at ease given the care Fred and his team took with our home. And, our kitchen looks beautiful!!! We are so fortunate to have found Top To Bottom!"
---
Review by Karen M
Rating

"OUTSTANDING!!! Fred and his team were professional, prompt, responsive and went way above and beyond in the services they provided. I contacted them to assist with water damage from a pipe that burst. His team handled the cleanup and water mitigation flawlessly. He always stayed in communication and responded to my calls, texts and questions. A week later I had a leak at another property and Fred was my first call. He handled the 2nd house as well and even identified additional things that needed to be addressed with the furnace, roof and mold. I'd give 6 stars if possible. ****** Call Fred. He'll get it done!"
---
Review by Kari Muhammad
Rating

"I can't recommend this company highly enough! Imagine getting a call in the middle of the night and being told that a pipe burst and your basement is filled ankle-high with water. That's what I was dealing with when I spoke to Fred at 4am. He immediately got a team out and they took care of the problem- getting up the water, cutting open the ceiling and the walls in several rooms. They took up the floor throughout the basement and installed heavy duty dryers. They came out everyday to assess the moisture level until everything was all dry. I was out of town while all of this was taking place, but Fred was very easy to work with and he called and/or texted me everyday! I didn't get the chance to meet him until 3 weeks later when he came by to pick up the payment. A true professional, who's company is licensed and bonded and my insurance company is very familiar with. Such a pleasure!"
---
See All Reviews