Top To Bottom Renovation, Inc., MD
Although not as common as water damage, flood damage is among the most damaging disasters that can occur within a home or building. A leaking pipe, natural flooding, sewage backup or a leaking roof can all be sources of immediate flooding or water damage that turns into a flood.
Regardless of the source, it's imperative to have the affected area cleaned up as soon as possible. Top To Bottom Renovation, Inc. is available in the Crofton and Lanham, MD area to provide flood restoration services for commercial and residential properties. Our technicians are available 24/7 to respond to your call, arriving right away to extract any standing water, dry out the affected area, and apply microbial to prevent mold growth.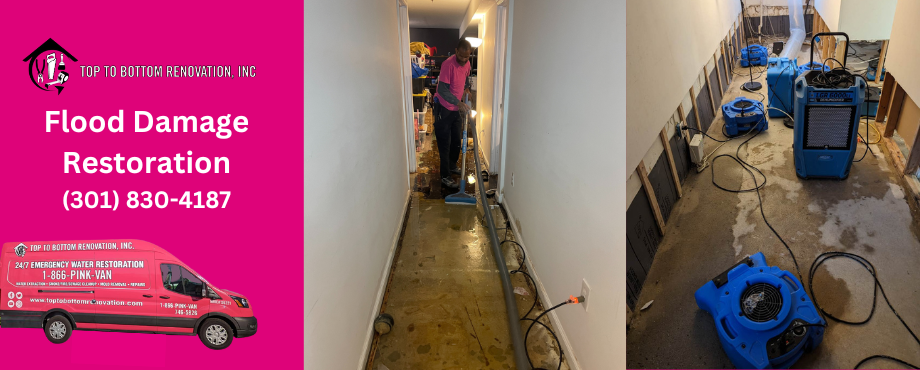 Flood Damage Restoration
The reason it's important to call for immediate help when discovering flood damage is because of how quickly it can spread and the damage it can cause to your building materials, especially those that are porous, including particleboard, drywall, insulation, wood flooring, and furnishings. These materials will quickly soak up the most water and become buckled, discolored, and warped.
If the water is contaminated, such as with sewage water, any porous materials that become wet will need to be replaced due to the number of bacteria within the water. Contaminated water also poses a health and safety threat to everyone on the property.
Mold is another issue caused by flooding. It can grow in as little as 24 hours after water damage, spreading to other areas and triggering a number of health issues. It will also require professional help to eliminate all the spores as home remedies are ineffective.
Watch RestorationMaster video for more information on water damage restoration
Available 24/7 for Flood Damage Cleanup in Crofton and Lanham, MD
As soon as you call our experts for professional flood restoration services, we will respond right away. We will first extract all standing water, then set up our drying equipment to remove the remaining moisture from the walls, flooring, and air. During the drying process, we also apply anti-microbial to prevent the risk of mold growth. If mold growth has already started, our mold removal services can have it removed at the source.
Any leftover musty odors will also be removed using advanced technology. Finally, we will work with your insurance agency during the claims process for additional peace of mind. Don't hesitate to contact Top To Bottom Renovation, Inc. at (301) 830-4187 for emergency flood cleanup services in the Crofton or Lanham, MD area.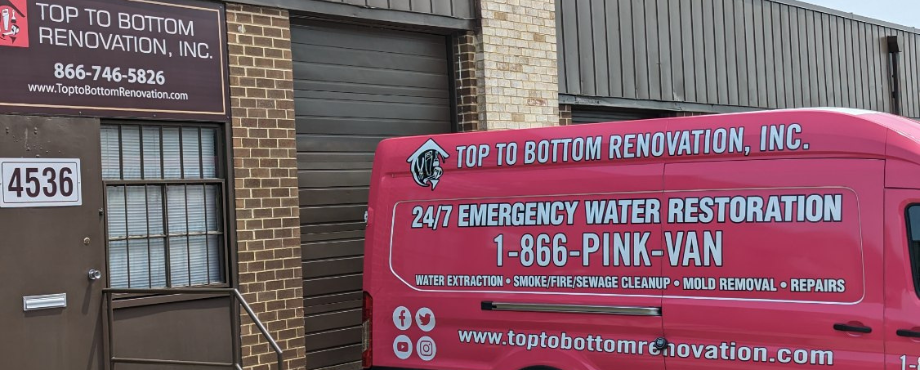 ---
Related Links:
Flood damage mitigation in Mitchellville and Greater Landover, MD
Flood damage reconstruction in Greater Upper Marlboro, MD
Flood damage recovery and restoration in Brandywine and Rosaryville, MD 
Flood damage recovery and repair in Camp Springs and District Heights, MD
Basement flood mitigation in Bowie, MD
Basement flood cleanup in Greenbelt, MD
---
Recent Reviews
Review by Denise Greene
Rating

"Top To Bottom is highly exceptional on every level from the quality of work to professionalism. This was my first time dealing with a flood as well as filing an insurance claim. Fred not only walked me through the process but was always available to the insurance company for their requests and visits. Unfortunately, I was out of state during the critical moments of the renovation. But, Fred went above and beyond to make a complicated situation extremely easy. His communication was thorough and consistent; and, he took the lead with other contractors to ensure that the project remained on schedule. Most importantly, I was completely at ease given the care Fred and his team took with our home. And, our kitchen looks beautiful!!! We are so fortunate to have found Top To Bottom!"
---
Review by Karen M
Rating

"OUTSTANDING!!! Fred and his team were professional, prompt, responsive and went way above and beyond in the services they provided. I contacted them to assist with water damage from a pipe that burst. His team handled the cleanup and water mitigation flawlessly. He always stayed in communication and responded to my calls, texts and questions. A week later I had a leak at another property and Fred was my first call. He handled the 2nd house as well and even identified additional things that needed to be addressed with the furnace, roof and mold. I'd give 6 stars if possible. ****** Call Fred. He'll get it done!"
---
Review by Kari Muhammad
Rating

"I can't recommend this company highly enough! Imagine getting a call in the middle of the night and being told that a pipe burst and your basement is filled ankle-high with water. That's what I was dealing with when I spoke to Fred at 4am. He immediately got a team out and they took care of the problem- getting up the water, cutting open the ceiling and the walls in several rooms. They took up the floor throughout the basement and installed heavy duty dryers. They came out everyday to assess the moisture level until everything was all dry. I was out of town while all of this was taking place, but Fred was very easy to work with and he called and/or texted me everyday! I didn't get the chance to meet him until 3 weeks later when he came by to pick up the payment. A true professional, who's company is licensed and bonded and my insurance company is very familiar with. Such a pleasure!"
---
See All Reviews