Top To Bottom Renovation, Inc.
Flooding is a disaster that no one wants to deal with. Because of how unpredictable flooding can be, it's hard to prevent the extensive water damage that can occur. Our professionals only use the best equipment and cleaning products to restore your property to its original state.  Our team will make sure to clean up and remove any remaining water. We will then dry out the area and completely disinfect surfaces to prevent mold growth. By using a strong deodorizer, we will remove any unwanted mildew smells.
Top To Bottom Renovation, Inc. is available in the Greenbelt, MD area to provide flood damage cleanup. By removing the water, drying out the affected areas, and taking preventative measures to eliminate mold growth, we will give you peace of mind and restore your property to what it used to be.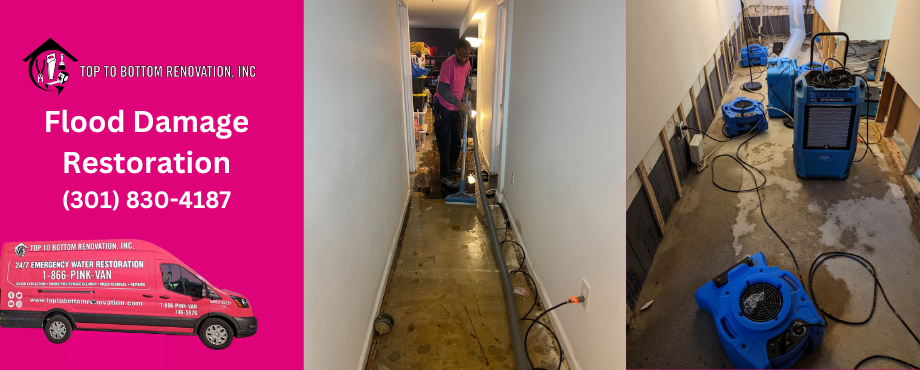 While flooding can cause surface damage, it is important to know that water damage can cause instability in your floors, walls, and ceilings. Any porous surface is at risk for permanent water damage, including:
Flooring
Insulation
Wood
Drywall
Furnishings
One of the most important plans of action when it comes to any water damage restoration is preventing mold growth. By removing the flood water and cleaning and disinfecting the areas of probable mold growth, we can help to make sure your health is not affected.
Watch RestorationMaster video for more information on water damage restoration
Flood Damage Cleanup in Greenbelt, MD
Flood damage cleanup is a crucial and challenging task that requires swift action to minimize further damage and restore affected areas.
The first step in the cleanup process is to ensure the safety of the premises by turning off the electricity and gas supply to prevent any potential hazards.
Once the safety measures are in place, the removal of standing water becomes a top priority. Powerful pumps and water extraction equipment are used to efficiently drain the water from the affected area. It is essential to remove all furniture, carpets, and damaged belongings to prevent mold growth and facilitate drying.
Afterward, thorough cleaning and disinfection are necessary to eliminate any contaminants and prevent health risks. This involves scrubbing surfaces, disinfecting with appropriate solutions, and ensuring proper ventilation to aid in the drying process.
Lastly, repairing and restoring any structural damage, such as damaged walls or flooring, is undertaken to bring the property back to its pre-flood condition.
Call us for Flood Damage Restoration in Greenbelt, MD
Once you reach out to our skilled professionals for professional flood restoration services, we will promptly mobilize our team to assist you. Our first step is to swiftly extract all standing water from the affected area. Subsequently, we will deploy specialized drying equipment to eliminate any residual moisture present in the walls, flooring, and air. As part of our comprehensive approach, we also apply anti-microbial agents during the drying process to mitigate the potential risk of mold growth. Should mold growth already be underway, you can rely on our mold removal services to effectively eradicate it at its source. Your satisfaction and the restoration of a safe and healthy environment are our top priorities.
Top To Bottom Renovation, Inc. is available 24/7 in the Greenbelt, MD area to provide emergency flood damage cleanup and restoration services at (301) 830-4187.
---
Related Water Damage Repair Services
Experienced Flood damage cleanup in Mitchellville and Greater Landover, MD
24/7 Flood damage remediation in Greater Upper Marlboro, MD
Experienced Flood damage repair in Brandywine and Rosaryville, MD 
24/7 Basement flood remediation in Camp Springs and District Heights, MD
Experienced Basement water extraction in Crofton and Lanham, MD
---
Related Water Damage Cleanup Tips and Information
Exhaust fans installed in bathrooms can be susceptible to leaks, which can result from various factors. These leaks have the potential to inflict harm upon the ceiling, insulation, and drywall, and also escalate the likelihood of mold development. The good news is that addressing bathroom fan leaks is typically manageable either by enlisting the expertise of professionals or as a do-it-yourself endeavor. Should you find yourself faced with a bathroom fan leak, it's essential to comprehend the underlying causes of the leak and grasp the necessary steps for rectifying the issue to put an end to the leakage. While you might be capable of resolving the root cause of the leak independently, it's probable that you will need to engage a water damage restoration specialist to effectively repair the damage brought about by the water intrusion.
For cabin owners, it's crucial to recognize the potential vulnerability of your property to various natural events like storms, tornadoes, floods, and other disasters. Understanding the extent of coverage offered by your homeowner's insurance policy and being well-informed about the appropriate steps to take in the event of such a catastrophe is paramount. Equally important is the preparation of your cabin for the winter season, as this proactive measure can effectively mitigate additional damage resulting from the harsh elements.
Dealing with a leaking faucet or a blocked pipeline is a familiar issue in households. Despite our attempts to fix such problems independently, it's often humbling to admit that the actual execution can be far more complex than it seems in DIY tutorial videos. Plumbing encompasses nuances that may not always involve straightforward pipe connections or mere faucet adjustments. Certain plumbing tasks necessitate specialized tools and a higher level of plumbing expertise, qualities that can't be swiftly acquired from a single DIY video session. Consequently, it's a prudent choice to opt for the services of professional plumbers instead of embarking on a self-guided tool-handling journey. Their seasoned skills and experience ensure that intricate plumbing challenges are met with the proper solutions, sparing homeowners from potential mishaps and ensuring the job is well-handled.
---
Recent Reviews
Review by Denise Greene
Rating

"Top To Bottom is highly exceptional on every level from the quality of work to professionalism. This was my first time dealing with a flood as well as filing an insurance claim. Fred not only walked me through the process but was always available to the insurance company for their requests and visits. Unfortunately, I was out of state during the critical moments of the renovation. But, Fred went above and beyond to make a complicated situation extremely easy. His communication was thorough and consistent; and, he took the lead with other contractors to ensure that the project remained on schedule. Most importantly, I was completely at ease given the care Fred and his team took with our home. And, our kitchen looks beautiful!!! We are so fortunate to have found Top To Bottom!"
---
Review by Karen M
Rating

"OUTSTANDING!!! Fred and his team were professional, prompt, responsive and went way above and beyond in the services they provided. I contacted them to assist with water damage from a pipe that burst. His team handled the cleanup and water mitigation flawlessly. He always stayed in communication and responded to my calls, texts and questions. A week later I had a leak at another property and Fred was my first call. He handled the 2nd house as well and even identified additional things that needed to be addressed with the furnace, roof and mold. I'd give 6 stars if possible. ****** Call Fred. He'll get it done!"
---
Review by Kari Muhammad
Rating

"I can't recommend this company highly enough! Imagine getting a call in the middle of the night and being told that a pipe burst and your basement is filled ankle-high with water. That's what I was dealing with when I spoke to Fred at 4am. He immediately got a team out and they took care of the problem- getting up the water, cutting open the ceiling and the walls in several rooms. They took up the floor throughout the basement and installed heavy duty dryers. They came out everyday to assess the moisture level until everything was all dry. I was out of town while all of this was taking place, but Fred was very easy to work with and he called and/or texted me everyday! I didn't get the chance to meet him until 3 weeks later when he came by to pick up the payment. A true professional, who's company is licensed and bonded and my insurance company is very familiar with. Such a pleasure!"
---
See All Reviews