AdvantaClean of Bowie
Natural disasters like fires, floods, and major storms can cause serious structural damage and threaten the stability of a home or building. Your home or business could need extreme repairs, especially if the initial damage is ignored and allowed to spread. Cleaning and water damage restoration services are a good start, but structural damage often requires construction services to return the building to its original condition.
AdvantaClean of Bowie rebuilds homes and businesses that have sustained major damage by providing reconstruction services in Crofton and Lanham, MD and the surrounding areas of Prince George's County and Anne Arundel County. Our technicians will stabilize the building immediately upon arrival and create a construction plan after assessing the damage.
Trusted Reconstruction Services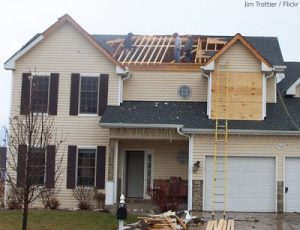 Severe structural damage in your home or business may cause the property to be uninhabitable until it can be properly fixed. We understand that this is a frustrating situation, so our technicians will quickly stabilize your property and assess the damage. We will then create and execute a construction plan that will make the process go as quickly and smoothly as possible.
Our construction crew at AdvantaClean of Bowie consists of project managers, handymen, and carpenters that will answer all your questions and supervise the reconstruction process. Our construction services help to rebuild high-rises, homes, commercial buildings, and apartment buildings.
Our professionals will:
Plan and schedule the construction process
Assess the damage
Provide free estimates
Control the demolition
Provide a thorough report of all repairs
Consult with you about design
Stabilize the building
In cases of severe damage caused by a natural disaster, AdvantaClean of Bowie can provide the following:
Emergency damage restoration
Building stabilization
Sublimation drying
Deodorization
Board-up and pack-out services
Project management and consultation
Document and data recovery
Fine art and antiques restoration
Electronics restoration
Available 24/7
Homes and commercial buildings that have sustained extreme structural damage due to disasters need immediate reconstruction and stabilization. Call AdvantaClean of Bowie if your home or business has been damaged in Crofton and Lanham, MD and the surrounding areas of Prince George's County and Anne Arundel County. Our trained professionals will execute a reconstruction plan to return your home or business back to its original state.
Contact AdvantaClean of Bowie at (301) 750-9969 for our 24/7 emergency construction services.
---
Related Services