Top To Bottom Renovation, Inc.
When water damage and/or flooding occurs within a home or building, the result will always be extensive destruction to the property, especially at the rate at which water can travel. When the water contains sewage waste, the disaster is much worse, due to the number of bacteria and pathogens within the water.
Don't hesitate to call for emergency cleanup services in the event of a sewage backup and stay away from the affected area. Top To Bottom Renovation, Inc. provides sewage cleanup services in the Bowie, MD area. Our professionals will respond right away to your first call and begin the water extraction process.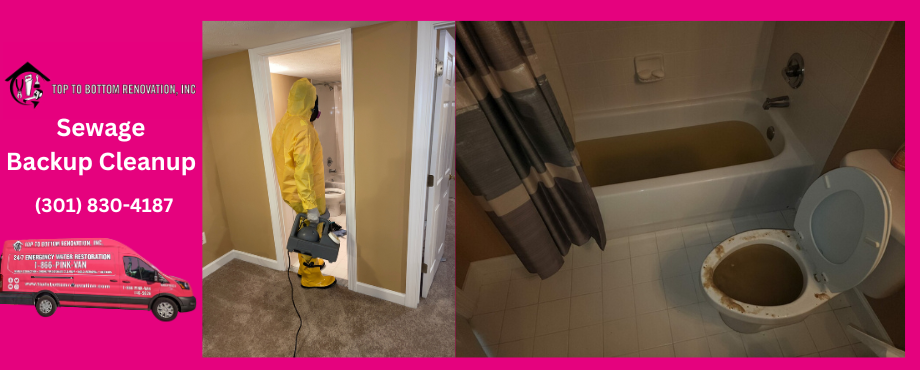 Property Damage from Sewage Waste
In the case of flood damage in a home or building, there is always the possibility that it contains sewage waste. As water will naturally mix with dangerous materials outside and flow into the home, it becomes an incredibly dangerous and destructive situation for you and your property.
When sewage backups occur, there is a clog in the sewer line, causing a backflow of sewage waste back into your home or building. But it's crucial to never attempt to clean the mess yourself as doing so can be incredibly dangerous due to the number of bacteria and other dangerous pathogens in the water. The job is best left to professionals who use specialized products and equipment.
Watch RestorationMaster video for more information on water damage restoration
Sewage Backup Cleaning in Bowie, MD
Our professionals at Top To Bottom Renovation, Inc. are available 24/7 to remove sewage waste and contaminated flood water from homes and businesses of all sizes. In addition to removing the water and waste, we will disinfect the area and replace soiled porous materials to restore safe and healthy conditions.
Each of the following is included in our sewage cleanup services:
Contaminated water extraction: All sewage water and moisture will be fully extracted from the furnishings and building materials.
Disinfection and Cleaning: As there will be bacteria left behind from the wastewater, Top To Bottom Renovation, Inc. will disinfect and clean all contaminated areas to restore safe and healthy conditions.
Odor Removal: Any remaining sewage odors will be removed using advanced technology and methods.
Dehumidification and drying: All areas will be dried and dehumidified to prevent the risk of mold growth or water damage.
Mold Removal: It's natural for mold to grow during the drying process and even before the services, but our professionals can remove it at the source and prevent it from returning.
Available 24/7 for Sewage Backup Cleanup in Bowie, MD
At Top To Bottom Renovation, Inc., our team of experts is at your service round the clock for the efficient removal of sewage waste and contaminated floodwater from residences and commercial establishments, regardless of their scale. Apart from the thorough extraction of water and waste, we prioritize the disinfection of the affected area and the replacement of any porous materials that may have been soiled, ensuring the restoration of a safe and healthy environment. Don't hesitate to contact Top To Bottom Renovation, Inc. at (301) 830-4187 for emergency sewage cleanup services if you live in the Bowie, MD area and have experienced a sewage backup.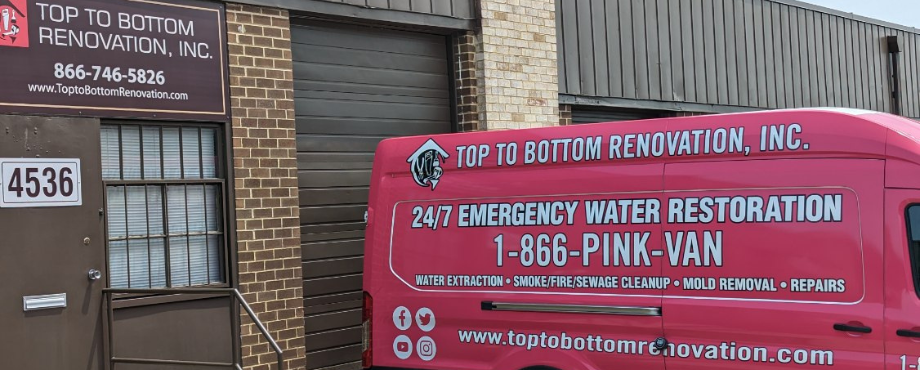 ---
Related Service Areas:
Sewage Cleanup Crofton and Lanham, MD
Sewage spill cleanup in Mitchellville and Greater Landover, MD
Sewage overflow remediation in Greater Upper Marlboro, MD
Sewage backup restoration in Brandywine and Rosaryville, MD
Sanitary sewer cleanup in Camp Springs and District Heights, MD
Sewage contamination removal in Greenbelt, MD
---
Related Sewage Flood and Water Damage Blogs and Information
The primary cause of a sewage odor emanating from the dishwasher is a clogged filter. This filter captures remnants of food, and if it's not properly maintained, it can develop a lingering unpleasant scent over time. Neglecting regular cleaning of the filter doesn't just result in a malodorous dishwasher, as there are other potential consequences to having an unattended filter.
Dealing with sewage removal can bring significant stress to any homeowner, and the expenses can escalate, particularly for extensive damage. Once you've evaluated the situation and determined it's manageable, you can consider these guidelines to safely and affordably address the sewage removal task yourself.
Sewer backup is a distressing occurrence that brings about significant inconvenience and disrupts daily routines. While it might not possess the same level of destruction as a fire or tornado, it introduces various health risks and sanitation complications. It can lead to substantial property harm and even severe personal injuries. Hence, addressing sewage backup promptly and effectively is crucial. If your home experiences a sewage spill, it's essential to swiftly evacuate all occupants, deactivate the building's power and water supply, and promptly enlist the services of a plumber and a cleanup expert to rectify the situation.
---
Recent Reviews
Review by Denise Greene
Rating

"Top To Bottom is highly exceptional on every level from the quality of work to professionalism. This was my first time dealing with a flood as well as filing an insurance claim. Fred not only walked me through the process but was always available to the insurance company for their requests and visits. Unfortunately, I was out of state during the critical moments of the renovation. But, Fred went above and beyond to make a complicated situation extremely easy. His communication was thorough and consistent; and, he took the lead with other contractors to ensure that the project remained on schedule. Most importantly, I was completely at ease given the care Fred and his team took with our home. And, our kitchen looks beautiful!!! We are so fortunate to have found Top To Bottom!"
---
Review by Karen M
Rating

"OUTSTANDING!!! Fred and his team were professional, prompt, responsive and went way above and beyond in the services they provided. I contacted them to assist with water damage from a pipe that burst. His team handled the cleanup and water mitigation flawlessly. He always stayed in communication and responded to my calls, texts and questions. A week later I had a leak at another property and Fred was my first call. He handled the 2nd house as well and even identified additional things that needed to be addressed with the furnace, roof and mold. I'd give 6 stars if possible. ****** Call Fred. He'll get it done!"
---
Review by Kari Muhammad
Rating

"I can't recommend this company highly enough! Imagine getting a call in the middle of the night and being told that a pipe burst and your basement is filled ankle-high with water. That's what I was dealing with when I spoke to Fred at 4am. He immediately got a team out and they took care of the problem- getting up the water, cutting open the ceiling and the walls in several rooms. They took up the floor throughout the basement and installed heavy duty dryers. They came out everyday to assess the moisture level until everything was all dry. I was out of town while all of this was taking place, but Fred was very easy to work with and he called and/or texted me everyday! I didn't get the chance to meet him until 3 weeks later when he came by to pick up the payment. A true professional, who's company is licensed and bonded and my insurance company is very familiar with. Such a pleasure!"
---
See All Reviews