Top To Bottom Renovation
A home or building can experience mold growth at just about any time and once it starts, it can cause widespread problems including property damage and negative health effects.  The removal of mold, fungi, and bacteria requires trained and experienced personnel as well as the services of an industrial hygienist to determine the magnitude of the problem and how to best remove the growth.  Top To Bottom Renovation provides professional mold remediation services that include testing as well as removal for homes and businesses in Ft. Washington, MD.  Our technicians are highly trained and experienced to provide complete mold removal services.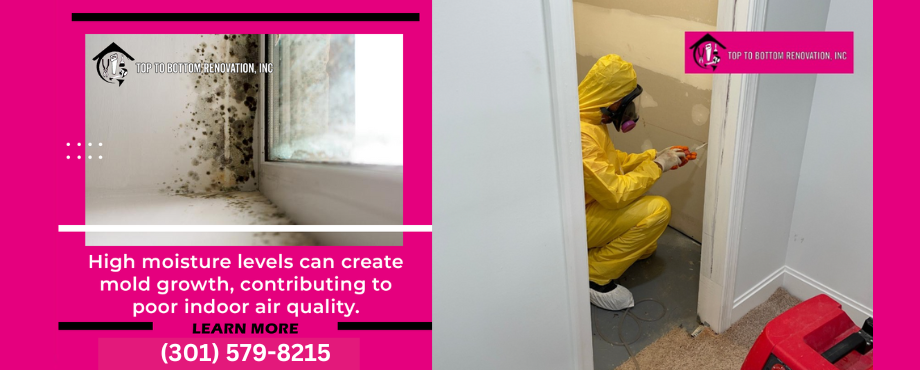 Top To Bottom Renovation Mold Removal Services in Ft. Washington, MD
Excess moisture or water damage is one of the main causes of mold growth as mold spores just need a moisture source, as well as an organic food source, to start growing.  Mold can spread easily through a building once it starts growing and if it is not removed, it can cause significant damage to the surfaces it has affected.  Mold exposure can also cause a variety of health issues including allergies and respiratory infection over long periods of time.  Our technicians will contain and remove the mold growth using the most advanced cleaning equipment and products available and we use personal protective equipment (PPE) to keep our technicians safe.  You can expect the following from our mold remediation services:
Mold contamination assessment
Environmental engineering controls
Restorative drying
Mold Remediation
Mold Damage Tips in  Ft. Washington, MD
Watch RestorationMaster video for more information about mold remediation:
Moisture is the biggest trigger of mold growth in homes and buildings which makes it important to keep the moisture at an acceptable level.  Check walls and other surfaces of your home for condensation or leaks and clean these surfaces with water and detergent if they are affected by moisture or starting to show signs of mold growth.  Removing the moisture from wet surfaces is not enough, you must figure out the source of the moisture and take care of the issue or you will continue to have problems with mold growth.
Mold doesn't just cause property damage in your home, it causes a range of health issues as well in those exposed to the spores.  The most common allergic reactions caused by mold exposure include coughing, stuffy or runny nose, itchy eyes and throat, skin irritation, and wheezing.  If someone is exposed to mold for an extended period, they could experience more serious health effects such as breathing problems, fever, and respiratory infections.  Even if there is no visible mold growth in your home, the World Health Organization warns that there could still be contamination in water damaged buildings (WDB) from bacteria, fungus, mycobacteria, volatile organic compounds (VOCs), actinomycetes, and other harmful toxins.
Mold remediation must be done by certified professionals who are trained and equipped to effectively remove mold while minimizing the potential health effects.  The mold removal experts of Top To Bottom Renovation use innovative mold remediation methods and accurate testing to ensure that all mold growth is uncovered and removed.  Give us a call once you notice mold in your home or building in Ft. Washington, MD because ignoring it will allow it to spread further and cause more damage.
Mold Testing and Evaluation in Ft. Washington, MD
Effective mold remediation services require accurate testing to locate hidden mold and test the air for the level of contamination.  We use the InstaScope airborne mold assessment system to measure the airborne levels of mold in each room to determine which rooms do not need treatment, which rooms may need mitigation cleaning due to elevated levels, and which areas have an active mold source and require immediate remediation.
Contact Us for Mold Remediation in Ft. Washington, MD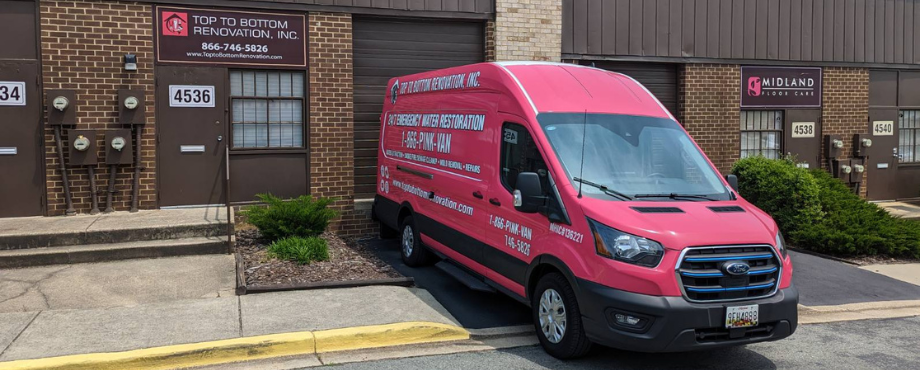 If there is visible mold growing in your home or building in Ft. Washington, MD or you notice signs of hidden mold growth, contact Top To Bottom Renovation immediately at (301) 579-8215 for mold remediation services in Ft. Washington, MD.  We use the best cleaning equipment and products of the industry to completely remove all mold growth and our InstaScope testing system allows us to test for mold levels to ensure it has been completely removed.
---
Related Mold Remediation Services:
Top Mold Abatement in Mitchellville and Greater Landover, MD
A Leader in Mold Mitigation in Greater Upper Marlboro, MD
Emergency Mold Remediation Professionals in Camp Springs and District Heights, MD
Licensed Mold Cleanup in Crofton and Lanham, MD
Water Damage-Related Mold Removal in Greenbelt, MD
24/7 Mold Damage Restoration in Brandywine and Rosaryville, MD 
---
Recent Reviews
Review by Denise Greene
Rating

"Top To Bottom is highly exceptional on every level from the quality of work to professionalism. This was my first time dealing with a flood as well as filing an insurance claim. Fred not only walked me through the process but was always available to the insurance company for their requests and visits. Unfortunately, I was out of state during the critical moments of the renovation. But, Fred went above and beyond to make a complicated situation extremely easy. His communication was thorough and consistent; and, he took the lead with other contractors to ensure that the project remained on schedule. Most importantly, I was completely at ease given the care Fred and his team took with our home. And, our kitchen looks beautiful!!! We are so fortunate to have found Top To Bottom!"
---
Review by Karen M
Rating

"OUTSTANDING!!! Fred and his team were professional, prompt, responsive and went way above and beyond in the services they provided. I contacted them to assist with water damage from a pipe that burst. His team handled the cleanup and water mitigation flawlessly. He always stayed in communication and responded to my calls, texts and questions. A week later I had a leak at another property and Fred was my first call. He handled the 2nd house as well and even identified additional things that needed to be addressed with the furnace, roof and mold. I'd give 6 stars if possible. ****** Call Fred. He'll get it done!"
---
Review by Kari Muhammad
Rating

"I can't recommend this company highly enough! Imagine getting a call in the middle of the night and being told that a pipe burst and your basement is filled ankle-high with water. That's what I was dealing with when I spoke to Fred at 4am. He immediately got a team out and they took care of the problem- getting up the water, cutting open the ceiling and the walls in several rooms. They took up the floor throughout the basement and installed heavy duty dryers. They came out everyday to assess the moisture level until everything was all dry. I was out of town while all of this was taking place, but Fred was very easy to work with and he called and/or texted me everyday! I didn't get the chance to meet him until 3 weeks later when he came by to pick up the payment. A true professional, who's company is licensed and bonded and my insurance company is very familiar with. Such a pleasure!"
---
See All Reviews