Few disasters can cause as much damage in a short amount of time as a fire and it will not only affect your home and furnishings, but also put you, your family, or your employees at serious risk of injury. Extinguishing the fire is just part of the battle as corrosive byproducts, soot, and chemical emissions can result in further damage after the fire is out and failure to react quickly will cause this type of damage to become permanent. ServiceMaster NCR provides fire and smoke damage restoration services to help repair and restore homes and businesses in Reston, VA that have been damaged by a fire. We have the best equipment in the industry along with almost 30 years of experience to effectively restore fire damage in any setting.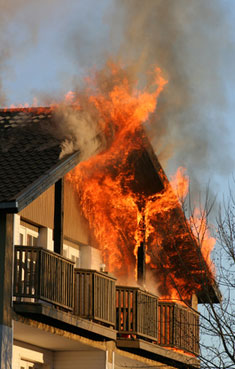 Each of our technicians has been highly trained and certified to handle even the most extensive fire damage and we use the most advanced cleaning products and equipment available. Our cleaning equipment allows us to repair and restore structural elements, furnishings, and personal belongings that have been damaged by the soot or fire. The fire and smoke damage restoration services we provide include the following steps:
Pre-cleaning of the affected areas
Content cleaning
Content pack-out
Cleaning and restoration of damaged surfaces
Odor removal
Smoke Damage Restoration
The smoke from a fire causes a different type of damage than the flames and it often spreads beyond the areas directly affected by the flames to cause more extensive damage. If soot damage is left for too long, it can cause permanent tarnishing or etching to the affected surfaces. We use powerful chemical cleaners that can remove soot from a variety of delicate household surfaces such as porcelain, marble, aluminum, brass, stainless steel, carpeting, and upholstery. We are also equipped to remove any lingering smoke odors that may be left behind.
Fires are never easy to deal with because of the amount of damage they can cause but it is very important to begin the restoration as soon as the fire is out to prevent further damage. Make sure you call ServiceMaster NCR immediately if your home or business in Reston, VA has been affected by a fire. You can reach us 24 hours a day at 703-596-3171 for emergency response in Reston, VA.