Few home disasters are more dangerous or destructive than a fire as it can very quickly cause extensive damage to a home or building and put the safety of those within at risk.  Even after a fire is put out, the damage will continue to spread as soot, chemical emissions, and corrosive byproducts can cause permanent damage.  It is best to call for restoration services as soon as the fire is extinguished and ServiceMaster NCR provides fire and smoke damage restoration services for homes and business in Alexandria, VA.  Our fire damage specialists have all completed advanced training in fire, smoke, and water damage restoration to restore fire damaged homes, furnishings, and personal belongings.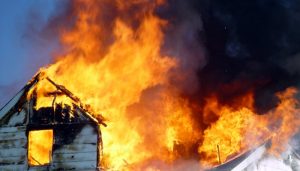 Fire Damage Repair and Restoration in Alexandria, VA
Fires are especially destructive because the flames can damage the structure, building materials, furnishings, and personal belongings in a home or building and after the fire is out, the soot and corrosive byproducts will continue to settle and cause permanent damage if the restoration does not begin immediately.  The technicians of ServiceMaster NCR use the most advanced cleaning equipment, methods, and products in the industry to repair and restore fire and smoke damage while preventing the damage from becoming permanent.  Our fire damage restoration services include the following process:
Pre-cleaning of damaged areas
Content cleaning
Content pack-out
Cleaning of all damaged surfaces
Deodorization
Smoke Damage Restoration and Deodorization in Alexandria, VA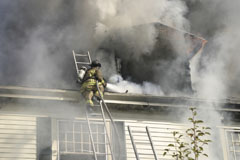 In addition to repairing and restoring damage caused by fire, we can also restore soot damage and remove lingering odors caused by smoke.  Soot from the smoke will continue to settle throughout the building after the fire is extinguished and our technicians can effectively remove soot from a variety of household surfaces including marble, aluminum, brass, stainless steel, porcelain, carpeting and upholstery using with the right chemical combinations.  We also have the proper equipment for removing airborne smoke odor such as odor neutralizing agents and HEPA air scrubbers with Nanotech filters..
If your home or building in Alexandria, VA has been damaged in a fire, make sure you contact ServiceMaster NCR right away to begin the fire and smoke damage restoration process.  Our technicians approach each fire damage situation with a commitment to quality, integrity, and excellent service and we also work with local insurance companies to help coordinate your claims.  You can call us anytime at (703) 596-3171 for emergency fire damage restoration services.
---
November 5, 2021
Debra Shivers
Landover, MD