When water damage is caused by a source that may have dangerous contaminants such as sewage, you must treat the situation more cautiously.  Water from sewage backups contains bacteria and waste that can spread disease if it is not cleaned up properly.  When a sewage backup occurs, avoid contact with the water and call our professionals immediately.  RestorationMaster provides sewage cleaning service in Alexandria, VA to help cleanup sewage backups and disinfect the area.  We will remove the sewage water and debris as well as restore the affected area to a safe condition.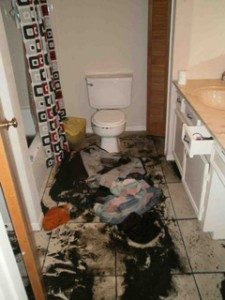 Water from a sewage backup spreads by penetrating absorbent building materials and causes structural issues just like any type of water damage.  The major difference is that sewage contains dangerous bacteria, waste, and foul odors that it also spreads around your home.  The technicians of RestorationMaster are equipped to provide safe sewage cleanup with advanced water extraction equipment and cleaning products that can remove harmful contaminants and foul odors from the damaged areas.  Please call our professionals to deal with sewage backups in Alexandria, VA because attempting to clean it up yourself can be dangerous for your health.
Our sewage cleanup services include these steps:
Sewage Extraction: Our advanced water extraction equipment can effectively remove significant amounts of sewage and standing water.
Cleaning, Disinfection, and Deodorization: Sewage backups bring odors as well as bacteria and waste into your home. We will thoroughly clean, disinfect, and deodorize your home after removing the sewage water.
Drying and Dehumidification: We dry the entire affected area with our drying and dehumidification equipment to help prevent further water damage or mold growth.
If you experience a sewage backup in your home or building, avoid contact with the water and call for professional assistance.  RestorationMaster is ready to provide sewage cleanup for homes and business in Alexandria, VA that includes removal of the sewage and thorough cleaning to restore the affected area.  You can call us 24 hours a day at (202) 952-3660 for emergency sewage cleaning services.
---
January 22, 2023
John Kirkpatrick
Arlington, VA
January 19, 2023
She'ron Fields
Richmond, VA
See All Reviews