703-596-3171
In 2013, there were over 369,000 house fires in the United States, causing $6.8 billion in damage, according to the National Fire Protection Association. Only part of that damage is caused by actual flames; soot, smoke and the remnants from fighting the fire can cause just as much damage, if not more. ServiceMaster NCR has the experience and the equipment to limit this kind of damage and help you start the rebuilding process. That's why one of the first calls you should make is to our experts at (703) 596-3171.
Fire and smoke Damage Restoration in Bethesda, MD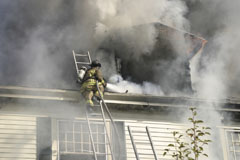 With almost 30 years' experience in restoring fire damage, we know how to safely work on a fire scene and deal with caustic chemicals. We use equipment and products not available to the general public to repair and restore structural elements, furnishings and personal belongings that have been damaged by soot or fire.
Our fire and smoke damage restoration services include:
Pre-cleaning of the damaged areas;
Content cleaning;
Content pack-out;
Cleaning and restoration of affected surfaces;
Odor removal.
Smoke causes different kinds of damage than flames do because it continues to spread even after the fire is out. If soot is allowed to remain on surfaces for too long, it will cause permanent etching and tarnishing. Our specialists use the industry's best cleaning products and equipment to carefully clean soot from a variety of household surfaces, like porcelain, marble, aluminum, brass, stainless steel, carpeting, and upholstery. We'll also remove any lingering smoke odors so you can return to a house that smells like home.
If you have a fire, one of the first phone calls you should make after calling 911 should be to ServiceMaster NCR. We'll respond quickly and begin the assessment and pre-cleaning process for residential and commercial properties in the Bethesda, MD area 24/7.
April 6, 2019
Edward Prokop
ALEXANDRIA, VA
March 16, 2019
Julio Melgar Cruz
Woodbridge, VA
February 12, 2019
Aaron Bauknight
Upper Marlboro, MD
They responded quickly and came on the day they said they would come. I was comfortable enough with the company to leave a key as I would be out of town while they performed the work. I was pleased that when I returned, the work was clean. I called the office becuase there were two electronic items they moved becuase of the water damage. I couldn't find them, so Icalled and they told me exactly where those items were located and gave me a full report on the repairs.