There are various degrees of water damage depending on the amount of water involved. Flooding causes the most significant damage in homes and buildings. In-home flooding can result from natural floods or rain as well as other factors such as an overflow or burst pipe. An excessive amount of water can cause considerable damage which makes it important to have a professional remove the water right away. ServiceMaster NCR provides flood damage restoration in Bethesda, MD to remove standing water and clean up the damage from a flood. Our trained technicians can remove standing flood water using our advanced water extraction equipment.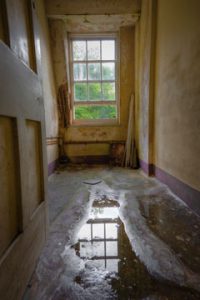 You must react to indoor flooding as quickly as possible because standing water gets absorbed into the drywall, flooring, wood, and other building materials. This leads to warping and other structural damage and the flood water can also create favorable conditions for mold. We use advanced water extraction equipment to remove standing water from homes and buildings. After the water is removed, we dry the area with dehumidification equipment to remove all excess moisture from the affected furnishings, structural elements, and air spaces.
Our flood damage restoration services include the following steps:
Emergency Response: We arrive quickly to assess the damage.
Water Removal and Drying: We can effectively remove standing water with our extraction equipment and dry affected structural elements and furnishings.
Reinstallation and Cleaning: We will move furniture and other large objects during the restoration and put them back when we are finished.
Flooding from Burst Pipes
One of the potential causes of in-home flooding, especially in the winter, is a burst pipe. Winter temperatures cause the water within the pipes to freeze and as the water expands, it puts pressure on the pipe until it bursts. Once the pipe bursts, the water traveling through the pipe will spill out and flood the home. Our technicians are ready to react to burst pipes in the winter. We will fix the pipe to stop the water from spilling out and remove the excess water with our water extraction equipment. You can help prevent burst pipes in the winter by keeping attics and basements with exposed pipes warm or installing pipe insulation.
Flooding in a home or building is an emergency so make sure you call ServiceMaster NCR immediately if there is flooding in your home or business in Bethesda, MD. Our technicians have the experience and equipment to remove standing water and restore the resulting damage. We are available 24 hours a day at (703) 596-3171 to respond to flooding emergencies.
August 2, 2021
Catherine Brown
Ashburn, VA
They worked so hard when my hot water heater broke. I was on vacation and other companies I called would not come til the next morning. I was afraid of mold because I am a recent widow and about to sell my house and wasn't sure how bad it was. They came right away and were able to stop the water from causing more damaged and managed to starve off any mold. It was hot and they worked so hard. Til 10pm. I am forever grateful for David Geronimo, Jennifer and Elsie for saving my house. I am forever grateful -Cathy, Northern Virginia