Water is a natural part of the environment that occurs in several forms including rain and humidity and if too much of it gets into your home, it can lead to structural damage and possibly mold growth. Excess water can get into your home or building from floods, rain, sewage backups, burst pipes, or plumbing leaks and it will spread throughout the building by getting absorbed into building materials such as wood, drywall, and insulation. ServiceMaster NCR provides water damage restoration services to stop the spread of the damage and remove excess water from homes and businesses in Reston, VA. You should not hesitate to act when you discover water damage because allowing it to spread will increase the risk of extensive structural damage and mold growth.
The keys to restoring water damage and avoiding significant structural damage or mold growth are quick response, dehumidification, and professional restoration services. Many of the building materials in a home or building such as wood, insulation, and drywall are absorbent and these materials will not only allow the excess water or moisture to spread, but also harbor mold or mildew growth which will result in more significant damage and increase the risk of certain health effects such as allergies or other respiratory problems. The water damage restoration services provided by ServiceMaster NCR include the following:
Total removal of excess water and moisture
Complete drying and dehumidification
Restoration and repair of structural elements, furnishings, and personal content that has been affected
Sanitization of affected areas
Mold and mildew removal if necessary
Deodorization
Content Cleaning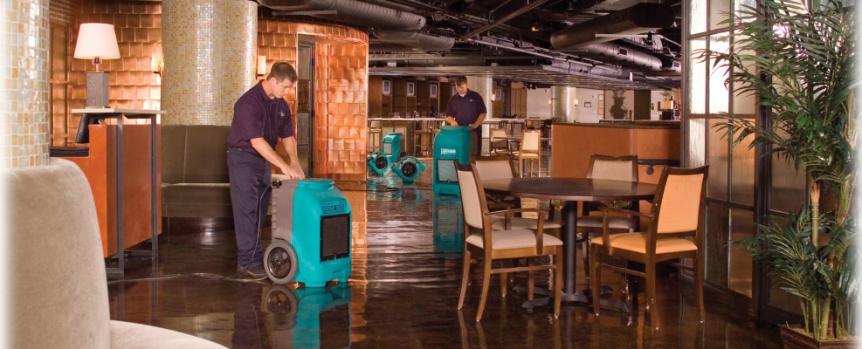 Water Damage Restoration Process
The technicians of ServiceMaster NCR are IICRC certified in water damage to mitigate and determine the full extent of the damage as well as clean and restore damaged furnishings, content, and structural elements. We use the most advanced cleaning products and equipment of the industry and we work quickly to limit the damage and help prevent mold growth. Our water damage restoration process includes the following steps:
Thorough assessment of the excess water and moisture to determine the extent of the damage
Complete drying using state-of-the-art dehumidifiers and water extraction equipment
Sewage cleanup or mold removal and decontamination
If excess water or moisture has caused damage in your home or building in Reston, VA, immediately call ServiceMaster NCR for our water damage restoration services. We respond quickly to limit the spread of the damage and remove water from your home and furnishings with our advanced drying equipment. You can reach us 24 hours a day at 703-596-3171 for water damage emergencies in Reston, VA.
Flood Damage Restoration in Reston, VA
April 6, 2019
Edward Prokop
ALEXANDRIA, VA
March 16, 2019
Julio Melgar Cruz
Woodbridge, VA
February 12, 2019
Aaron Bauknight
Upper Marlboro, MD
They responded quickly and came on the day they said they would come. I was comfortable enough with the company to leave a key as I would be out of town while they performed the work. I was pleased that when I returned, the work was clean. I called the office becuase there were two electronic items they moved becuase of the water damage. I couldn't find them, so Icalled and they told me exactly where those items were located and gave me a full report on the repairs.