Mold spores are always present in our natural environment but when they form into mold growth in a home or building, they can cause a range of problems such as property damage and even health issues. If you notice mold growing in your home or building, you must react quickly to help limit its spread and reduce the risks of health issues. ServiceMaster NCR provides professional mold remediation services in Falls Church, VA to test for and remove mold growth from homes and businesses. Our technicians will completely remove all mold growth and we also work with nationally recognized testing facilities to test for mold and ensure it has been completely removed.
ServiceMaster Mold Remediation Services in Falls Church, VA
All it takes for mold growth to form in a building is a moisture source as well as an organic food source such as wood or drywall, and once the growth starts, it will continue to spread and cause damage to the contaminated surfaces. If the mold is not removed soon enough, it will cause significant damage to the surfaces it is growing on and also increase the risk of associated health effects such as allergies and other respiratory issues. Our technicians will limit the spread of the mold to protect the unaffected areas and remove all mold growth with the best available cleaning methods and equipment. The basic steps of our mold removal services include:
Assessment of mold contamination
Environmental engineering controls
Restorative drying
Mold removal
Pack-out and storage
Mold Damage Tips
When mold appears in a home or building, moisture is usually the culprit. Mold not only needs moisture to grow, but a food source as well such as cellulose which is found in many building materials like wood and drywall. It is important to reduce the level of moisture in your home to prevent mold growth. Check the walls, ceilings, and other surfaces in your home that may be vulnerable to moisture and wipe them dry if you find moisture or condensation. Do not forget to find and address the source of the moisture as well or the problem will keep happening.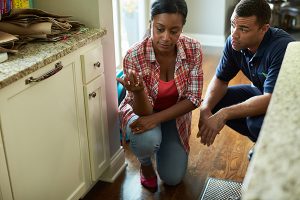 The potential health effects caused by exposure to mold are a major concern and the risk for these health effects will increase the longer the problem goes unaddressed. Some common allergic reactions associated with mold include itchy eyes and throat, skin irritation, coughing, and nasal congestion. Exposure over a significant period of time causes more severe health problems like breathing issues and respiratory infections. The World Health Organization proclaims that any water damaged building (WDBs) may be contaminated with bacteria, volatile organic compounds (VOCs), mycobacteria, fungus, and other imflammagens or toxins so make sure to use caution if you experience water damage in your home or building.
If the mold growth in your home or building covers more than just a small area, you must call a mold remediation professional. Large scale mold remediation is extremely dangerous if you do not have the right equipment or training to prevent its spread or protect your health. The professionals of ServiceMaster NCR are among the industry leaders in mold remediation and we use the most effective methods and testing equipment of the industry to ensure that all mold is completely removed from your home or business.
Mold Testing with InstaScope
An essential part of effective mold removal services is accurate testing to ensure that there is no hidden mold or elevated levels of mold in the air. With the InstaScope airborne mold assessment system, we can measure the airborne level of mold in each area of the home or building to determine what areas need a simple cleaning and what areas have an active mold source that requires immediate removal. We can also test the air for mold after the remediation to ensure that the mold has been effectively removed.
Trifect Mold Remediation
The Trifect mold remediation method is a new, innovative method of mold removal that eliminates the need to remove drywall to locate and remove hidden mold growth. This makes the mold remediation process less invasive in your home and much more cost effective because is it requires less labor. Using the InstaScope testing system, we get a baseline measurement of the mold levels outside of the home or building and then test each room to determine which areas have elevated mold levels when compared to the baseline measurement. We then remove the mold with the Trifect mold remediation method which consists of these steps:
Surface application: We remove visible mold growth by applying a proprietary topical solution to the affected surfaces.
MAG 50: Submicron aerosol decontamination can effectively remove all mold growth.
InstaScope Verification: After the remediation process, we retest the home or building to make sure there is no remaining mold.
Why ServiceMaster NCR for Mold Remediation
Effective mold remediation for all contaminations: Mold contaminations can spread and cover a significant area in your home or building. Our technicians can contain any size mold contamination and remove it effectively with our methods and equipment.
Advanced mold remediation technology: The Trifect mold remediation method and InstaScope testing system are the most effective and innovative technologies of the industry. Trifect mold remediation can be done without removing drywall which reduces its cost compared to more traditional methods of mold remediation by about 50 percent.
If there is a visible mold source growing in your home or building or if you have reason to believe that you may have hidden mold growth, do not hesitate to contact ServiceMaster NCR for mold remediation services in Falls Church, VA. Our technicians will not only remove all mold growth from the building, but also provide mold testing to ensure that the airborne level of mold is back to a safe level. You can reach us 24 hours a day at (703) 596-3171 for mold remediation services in Falls Church, VA.
We also provide mold remediation services for:
Alexandria, VA
Washington DC
Ft. Washington MD
Reston VA
Arlington VA
Springfield VA
Mclean VA
Bethesda, MD