The tile and grout surfaces in your home are among the toughest household surfaces and they are generally found in kitchens and bathrooms because of their moisture resistance.  Tiles are also a major part of the décor of kitchens and bathrooms as they are available in an endless variety of colors and styles.  However, heavy use in these environments causes debris buildup, stains, and general wear and tear of tile and grout surfaces that can affect the appearance of the space.  ServiceMaster by Monroe Restoration provides tile and grout cleaning services in Michigan City, IN to deep clean and restore your tile and grout.  We use advanced cleaning equipment to completely remove dirt, stains, mildew, and other debris from the tile surfaces and grout lines.
Tile and Grout Cleanup Process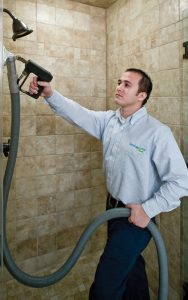 The tile and grout surfaces in a kitchen or bathroom are usually major features of the design of the room.  Once the tile becomes discolored by dirt and stains, it can make the entire kitchen or bathroom look dingy.  Mopping the surfaces will help remove some of the buildup, but it will not effectively remove stains from the tile surfaces or mildew from the grout lines.  Our technicians at ServiceMaster by Monroe Restoration can remove dirt, stains, and mildew from tile and grout surfaces using the best cleaning methods and equipment of the industry.  Our high-pressure water extraction cleaning method will revitalize the appearance of your tile surfaces and leave them free of dirt, stains, and mildew.
The Tile and Grout Cleaning Services from ServiceMaster by Monroe Restoration Include the Following Steps:
Thorough assessment of your tile and grout surfaces
Spot and stain pre-treatment
Complete cleaning of the tile and grout with the high-pressure water extraction method
Cleaning of baseboards and corners
Complete drying of the treated surfaces
Tile and grout surfaces are susceptible to dirt buildup, color fading, and mildew growth that can affect the look of your kitchen or bathroom and shorten the life of the surface.  Our technicians will remove all dirt and stains to restore the original appearance of your tile and grout surfaces.  You can call us at (574) 231-7179 for professional tile and grout cleaning in Michigan City, IN.
---
Recent Reviews
July 27, 2019
Austin & Rebecca Hart
Three Rivers, IN
We had the best experience with them considering our circumstances. Our basement flooded and they handled everything. The crew came out as soon as they received the call and was so nice. Dried out our basement, brought a dumpster for everything we lost and removed it for us. I would recommend them to anyone.
---