The carpet is one of the main components of your home that is used on a day to day basis. The problem with constant use is that it requires constant maintenance. Without routine professional carpet cleaning, it is likely that your carpet will have constant wear and tear and appear dirty. Your carpet grabs the attention of anyone who sets foot into your home, it is important that it allows you to make a good impression. ServiceMaster by Monroe Restoration offers only the best carpet cleaning service in the business for homes and businesses in Michigan City, IN. We recommend that a two-person home seek carpet cleaning services annually, a four-person home every six months, and homes with pets every three to four months. ServiceMaster by Monroe Restoration will have your carpet looking brand new so that you can make a good impression to all that enter your home.
Professional Carpet Cleaning by ServiceMaster, Michigan City, IN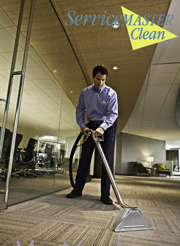 We use the most advanced and effective method in the business: the hot water extraction method. The first step in this method is to pre-treat your carpet. Next, we rinse the carpet and extract it back into our truck-mounted system or our portable unit. We offer you a free estimate and will layout an exact plan on the restoration of your carpet. We are determined to provide you with top of the line service and the most experienced carpet cleaners in the business. It is very important that you contact a quality carpet cleaner like ServiceMaster so that you can continue to make a good impression on your guests.
Our Carpet Cleaning Process Includes the Following Steps:
Pre-Treatment: The carpet is pre-treated to help lift dirt and stains.
Hot Water Extraction: We use the hot water extraction method to thoroughly clean your carpet.
Long Term Protection: We apply a solution to protect your carpet from stains.
Free Estimate: We provide you with a free estimate for our services.
Guarantee: We will walk through your home with you to guarantee that you are satisfied.
For your free estimate or to inquire about our carpet cleaning services in Michigan City, IN, contact ServiceMaster by Monroe Restoration at (574) 231-7179.
Related Carpet Cleaning Services:
Cleaning Company in Goshen, Indiana
Professional Carpet Cleaning Services in Hammond, Indiana
Carpet Cleaning Services in Valparaiso, Indiana
Commercial Carpet Cleaning in South Bend, Indiana
Commercial Carpet Cleaning Company in Mishawaka, Indiana
---
Recent Reviews
February 26, 2020
Sherry Lynn Conley
Grabill, IN
December 19, 2019
David and Terri Lynn Mann
New Buffalo, MI
Your whole team has made us feel comfortable about the situation we are in! We were very upset in the beginnning because people would be going through our belongings! But you all made us feel so much better and comfortable with the process! The cleaning also was so great! You have also been getting it done in a reasonable amount of time! We appreciate that! Thank you so very much!
---