Whether in a home or office, the carpet is one of the main furnishings that determines the look of a space.  A nice, clean carpet can make a room look good and feel comfortable but if the carpet looks dirty or stained, it will make the room look dirty as well.  The appearance of your home or office affects the impression that people make of you and one of the best ways to keep your space looking clean is with professional carpet cleaning services.
Commercial and Residential Carpet Cleaning in Goshen, IN
ServiceMaster by Monroe Restoration provides carpet cleaning services for homes and businesses in Goshen, IN.  We use advanced cleaning equipment and methods to deep clean and restore all types of residential and commercial carpeting.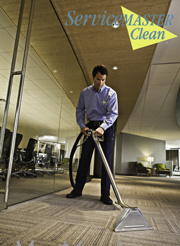 The carpet takes as much abuse as any furnishing with daily foot traffic that forces dirt and debris down into the fibers.  As this debris builds up, it causes the carpet to appear faded or dirty and eventually it will lead to deterioration of the carpet fibers.  Professional carpet cleaning services are the most effective way to remove debris from deep in the fibers and help your carpet look better and last longer.
Our technicians use the highly effective hot water extraction method to steam clean your carpet and extract the deepest embedded debris.  We use a specialized wand to apply a solution of hot water and mild detergent directly to your carpet and lift the solution back out, along with dirt and debris.  The extracted solution is stored in our truck-mounted tank to be disposed of off-site.  The hot water extraction method has a fast drying time and does not leave any residue on your carpet like carpet shampoos and chemicals.
Our Professional Carpet Cleaning Services Include the Following:
Pre-Treatment: We apply a pre-treatment to stains and heavily soiled areas.
Hot Water Extraction: We cover the entire carpeted area with the hot water extraction method to remove embedded debris and restore the original appearance of the carpet.
Long Term Protection: We can keep your carpet protected with a stain solution.
Convenience: Our carpet cleaning services only take one visit to complete and your carpets can be used the next day.
Free Estimate: We will provide you with a free estimate based on our assessment of your carpet.
Guarantee: We will do a walk through with you when we finish to make sure you are happy with our work.
It is generally recommended to have your carpet cleaned at least once per year to keep it free of debris and give it a longer lasting life.  If you are interested in professional carpet cleaning services for your home or business in Goshen, IN, contact ServiceMaster by Monroe Restoration.  You can reach us at (574) 231-7179 to learn more about our carpet cleaning services.
Related Carpet Cleaning Services:
Carpet Cleaning Company in Hammond, Indiana
Professional Carpet Cleaning Services in Valparaiso, Indiana
Commercial Carpet Cleaning Company in South Bend, Indiana
Commercial Carpet Cleaning in Mishawaka, Indiana
Carpet Cleaning Services in Elkhart, Indiana
---
Recent Reviews
February 26, 2020
Sherry Lynn Conley
Grabill, IN
December 19, 2019
David and Terri Lynn Mann
New Buffalo, MI
Your whole team has made us feel comfortable about the situation we are in! We were very upset in the beginnning because people would be going through our belongings! But you all made us feel so much better and comfortable with the process! The cleaning also was so great! You have also been getting it done in a reasonable amount of time! We appreciate that! Thank you so very much!
---