Unexpected tragedies that involve a major injury or death happen each day in the U.S. and while these tragedies are largely unlikely, you must react the right way for your safety.   It is common for the scene of a death or accident to involve blood, tissues, and other biohazard materials that have the potential to spread disease.  A licensed professional must clean up the scene once law enforcement officials have given their approval.  RestorationMaster provides biohazard and trauma scene cleaning services in Goshen, IN to safely cleanup biohazard materials.  Our powerful cleaning products will effectively clean and disinfect the area and our technicians work in cooperation with law enforcement to aid the crime scene investigation.
Biohazard Cleaning You Can Trust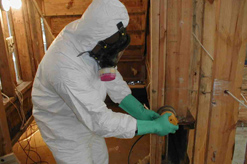 Each of our technicians are trained and licensed to clean up blood, tissues, and other biohazard materials while minimizing the risk of spreading disease.  We have the most advanced cleaning products and equipment available to ensure that the scene is thoroughly cleaned and disinfected so it is safe again for use.  All biohazard materials that are removed are taken to a medical waste facility where they can be disposed of properly.
Biohazard and Trauma Scene Cleaning Services in Goshen, IN Area
The biohazard and trauma scene cleaning services we provide include these steps:
Decontamination: We thoroughly decontaminate the scene to eliminate the risk of spreading infection or disease.
Deodorization: We use powerful deodorizers to remove strong odors.
Safe Disposal: We take all biohazard materials to a medical waste facility that is licensed to dispose of them.
Continuous Monitoring: We constantly monitor our progress to get the job done effectively and we communicate with you throughout the process.
Insurance Assistance: We can help with filing your insurance claims.
Family Assistance and Support: If someone is having a tough time dealing with a loss, we can refer them to counseling professionals who can help.
Certified Technicians: Our technicians are certified and highly trained to work within local and state government regulations.
Experiencing the death or serious injury of a loved one is very difficult and may leave you feeling helpless if the tragedy occurs on your property.  Make sure you call RestorationMaster after you alert the proper authorities for biohazard and trauma scene cleaning services in Goshen, IN.  Our technicians will respect your privacy and emotions and remove all physical evidence of the tragedy.  You can call us 24 hours a day at (574) 891-8076 for biohazard cleaning services.