Hoarding impacts millions of lives in the U.S. from those who are affected to their family members who live in the same house.  Hoarding is classified as a mental disorder with a high level of anxiety that makes it difficult for the affected individual to part with anything they have collected in their home.  This leads to an excessive buildup of all types of objects such as newspapers, random knick-knacks, appliances, and even animals that clutter the home and increase the risk of injuries and fires.  As the collection of items grows, it is more likely to harbor mold, bacteria, and other harmful substances that can have serious health effects.  Cleaning a hoarder's home is a delicate situation because those that hoard tend to be attached to the objects that they keep.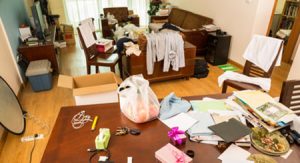 RestorationMaster provides complete hoarding cleaning services in Goshen, IN to help clean and restore the homes of hoarders.  We are experienced and equipped to handle every aspect of the hoarding cleaning process including removal and disposal of unwanted hoarded items as well as cleaning, disinfection, and deodorization of the home to return it to safe living conditions.  We are also equipped to safely clean up biohazard materials including bacteria, dead animals, mold, and others.
Each of our technicians are licensed to provide complete hoarding cleaning services using advanced cleaning equipment and personal protective equipment (PPE) to stay safe.  Our hoarding cleaning services are done within the rules and regulations of the EPA, OSHA, and the Department of Transportation and include the following steps:
Decontamination: We remove biohazard materials including bacteria, dead animals, and bodily fluids and completely disinfect the entire home.
Odor Removal: We remove any unpleasant odors with our powerful deodorizers.
Proper Disposal: We make sure all unwanted items are either thrown away, donated, or recycled and we will take biohazard materials to a licensed medical waste facility for disposal.
People that struggle with hoarding issues rarely get help on their own and often need the help of a trusted friend or family member to start the cleaning process.  We understand that hoarding cleaning is difficult for those that struggle with hoarding issues and we work to establish a personal connection with the hoarder before any cleaning begins.  If you know someone who struggles with hoarding issues in Goshen, IN and needs help cleaning their home, contact RestorationMaster.  You can call us anytime at (574) 891-8076 for more information about our hoarding cleaning services.
Related Hoarding Cleaning Services
Hoarding and Estate Cleaning Services in Hammond, Indiana
Hoarding Cleaning Services in Valparaiso, Indiana
Hoarding Cleaning Companies in South Bend, Indiana
Hoarding Cleaners in Mishawaka, Indiana
Hoarding Cleaning in Elkhart, Indiana