When you spend money to purchase an item, it can be difficult to discard it if it's no longer of any use. Most people are able to suppress the urge to hoard and regularly clean their home and discard things they don't use. Unfortunately, some are unable to let go and hoard all their possessions, which can create a very unstable and unhealthy environment. At ServiceMaster by Monroe Restoration, we perform thorough hoarding and estate cleaning in South Bend, IN.
Hoarder and Estate Cleanup Process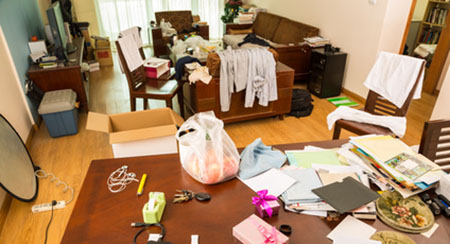 People with a hoarding habit are often reluctant and embarrassed to reach out to us and wait until their friends or family members are forced to intervene. We encourage people who know someone that hoards to reach out to them and help them start the cleaning process. Our hoarding cleaners will carefully and respectfully remove all collected items from your property and free up the living space for you. We have a very practical and organized method of dealing with the task and implementing a three-step process.
Communication – We always aim to establish a positive relationship with our customers, especially the owner of the hoarded items. Our goal is to help them let go gently and completely. That's why we make sure the owner of those items gives us permission to enter their home and perform hoarding cleaning.
Plan and Execution – Our cleaners will assess the property carefully and build a thorough cleaning plan. Once all collected items are cleared, we reorganize the home and make it livable once again.
After the Hoarding Cleanup – After our job is done, we help our clients keep the problem at bay with effective cleaning plans. We also make it a point to check if the owner has successfully managed to keep their home clean and offer more help if needed.
What Do We Do During a Hoarding And Estate Cleaning?
We identify and keep aside any and all valuable items so our client can decide what they want to do with it.
Our cleaners will handle disposal of the items and this includes recycling, reselling, and donation.
We can also help with all required paperwork to ensure the hoarding cleaning and distribution of discovered valuables is carried out legally.
If someone close to you has issues with hoarding in the South Bend, IN area, reach out to them and call ServiceMaster by Monroe Restoration for hoarding cleaning services.  We can thoroughly clean and sanitize the home with our advanced equipment and we are sensitive to the emotions of the hoarder.  You can call us at (574) 891-8076 to learn more about our hoarding cleaning services.
Related Hoarding Cleaning Services
Hoarding and Estate Cleaning Services in Mishawaka, Indiana
Hoarding Cleaning Services in Elkhart, Indiana
Hoarding Cleaning Companies in Michigan City, Indiana
Hoarding Cleaners in Goshen, Indiana
Hoarding Cleaning in Hammond, Indiana
---
Recent Reviews
---