Floods are the most deadly and destructive weather related disasters and they can happen literally anywhere in the U.S.  South Bend, IN and the surrounding areas are prone to flooding from heavy rain but homes and businesses can also experience flooding from leaks, overflows, and sewage backups.  Regardless of the source of the flooding, you must take immediate action because indoor flooding can quickly cause very serious damage to the furnishings and structural elements.  ServiceMaster by Monroe Restoration provides flood damage restoration services in South Bend, IN to remove indoor flood water and restore the resulting damage.  We use the best equipment available to extract standing water and we will also make sure the area is thoroughly dry and clean to prevent mold growth.
Flood Damage Cleanup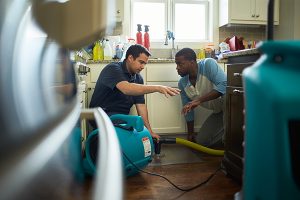 Indoor flooding can cause serious, widespread damage in a home or building.  Many furnishings and building materials like flooring, wood, and drywall are porous which means that standing water can quickly get absorbed and spread through these materials.  Building materials that absorb too much water may buckle or swell which can lead to severe structural damage.  Physical property damage is not the only concern with indoor flooding as it can also create unsanitary conditions in a home or building.  It is possible for flood water to contain harmful microorganisms or sewage that can trigger infection and other health issues.  Indoor flooding also creates a high risk of mold growth which can cause further damage to your home or building as well as serious health issues.
Our technicians at ServiceMaster by Monroe Restoration are certified and equipped to remove flood water from homes and commercial buildings and ensure that the affected areas are dried and restored.  We use advanced water extraction equipment to remove large amounts of standing water and our dehumidifiers can effectively extract moisture from furnishings and building materials.  Once we have removed the flood water, we will clean and sanitize the area to avoid negative health effects and restore the home or building to its original condition.
Our flood damage cleanup services include the following:
Total removal of flood water
Removal of moisture from building materials and furnishings using drying and dehumidification equipment
Cleaning and disinfection of all affected areas
Carpet and upholstery cleaning if necessary
Sewage Backups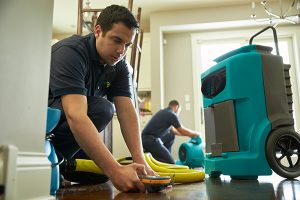 One source of indoor flooding that is very damaging and dangerous is a sewage backup.  Sewage backups occur if the main line to the sewer from the home is clogged, causing wastewater to back up into the home.  This water often contains human waste and dangerous bacteria that can lead to very serious health effects.  If there is sewage water in your home, you are advised to stay away from it and call a professional immediately.  At ServiceMaster by Monroe Restoration, we can safely and effectively clean up sewage backups.  We will make sure all the water is removed with our water extraction and drying equipment and thoroughly disinfect the area so it can be used again safely.
Indoor flooding is an emergency because it can cause severe property damage and even threaten your health with unsanitary conditions.  If your home or business experiences indoor flooding in South Bend, IN, contact ServiceMaster by Monroe Restoration as soon as possible for flood damage restoration.  Our technicians will immediately remove the flood water and make sure the affected areas get restored to their original condition.  We are available 24 hours a day at (574) 891-8076 to respond to flood damage emergencies.
---
Recent Reviews
---