ServiceMaster by Monroe Restoration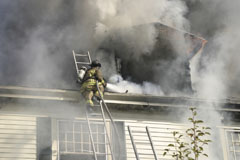 Raging fires cause incredible devastation, from the inferno-like destruction of physical structures to widespread smoke damage of everything the fires touch. Even short bursts of flame scorch and destroy nearby items.
Fire severely chars engulfed goods. Smoke damages ceilings and walls. Once a fire is extinguished, the water left behind causes mold growth within the premises. Strong odors linger in the air once a fire has ravaged the property.
Residences or offices in the South Bend region that are hit with unforeseen fires require the services of a trusted fire damage restoration professional. If your South Bend, IN home or business, meets a major—or even a small—fire, contact ServiceMaster by Monroe Restoration immediately. Our experienced fire damage restoration technicians use advanced fire restoration technology to restore your affected belongings. The quicker you make the call, the faster our technicians can respond to prevent the continual, steady spread of damage.
Our specialists follow a detailed plan of action to restore your goods in the event of fire damage:
We clean your contents on-site. If the premises is too dangerous to perform on-site cleaning, we pack out your goods, clean them at our facility and return them when you are ready.
Our experts perform emergency pre-cleaning.
We thoroughly clean ceilings and walls plastered with smoke.
Our technicians deodorize the affected space to remove staunch odors due to the fire itself or the extinguishment of the fire.
We will work with your insurance company to file claims.
We offer free estimates for fire damage restoration of your home or business.
In the event of a fire, certain steps help to decrease the consequences of the catastrophe:
Contact ServiceMaster by Monroe Restoration immediately once a fire strikes to lessen the impact of soot, smoke, and corrosive byproducts.
Ventilate your home: Open doors and windows if temperatures allow.
Prevent etching and tarnishing by cleaning chrome, Formica (a surface material), aluminum, or porcelain fixtures.
Replace your furnace's air filter.
Help remove soot from the home or business environment by placing a wet cheesecloth over the HVAC return and supply registers.
Toss out open food packages; clean out your refrigerator.
Sort all fire-damaged apparel to be later sent to a restoration dry cleaner.
Take caution once fire damage strikes. Avoid these activities to prevent further damage to the property or its occupants:
Never operate electrical appliances after a fire until a licensed professional inspect them and deems them safe to use.
Do not use ceiling fixtures, such as fans or lights, if the ceiling is wet.
Do not clean the upholstery or carpeting yourself. Enlist a professional to tackle the cleaning.
Avoid touching affected walls, woodwork, or furnishings. Oils from your hands can cause additional damage.
Never attempt to wash walls coated with soot. Improper cleaning methods only worsen the issue.
Damages that result from a blazing fire continue long after the fire is extinguished. Calling a professional restoration service, like ServiceMaster by Monroe Restoration, immediately after a fire is the safest plan of action to take to save your valuable items. Our technicians have years of experience and training to professionally restore your South Bend, IN home or business and its contents to its pre-damaged condition.
Our dedicated team is available to take your call 24 hours a day at (574) 891-8076.
Related Fire Damage Restoration Services
Smoke Damage Mitigation in Mishawaka, Indiana
Fire Damage Cleanup in Elkhart, Indiana
Fire and Smoke Damage Restoration in Michigan City, Indiana
Fire Damage Repair in Goshen, Indiana
Fire Damage Restoration Services in Hammond, Indiana
---
Recent Reviews
---