Fires are among the most devastating disasters that can happen to a home or business. Your home can go up in flames without warning almost immediately. Everyday activities such as smoking, cooking, or a wire malfunction can lead to a fire violently destroying all your belongings. Immediately after the fire, your primary concern is making sure that your family is safe, but seeing the damage to your personal items can be devastating. ServiceMaster by Monroe Restoration provides fire damage restoration in Michigan City, IN and Northern Indiana to restore your items as quickly as possible and get you back in your home.
Fire Damage Restoration in Northern Indiana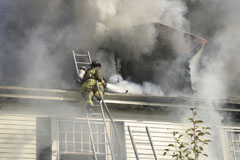 It is very important that you contact us immediately to avoid any temporary damage becoming permanent damage. The longer you wait, the more likely the fire damage will destroy your items. Even hours after the fire has been put out, the soot and corrosive byproducts are still constantly damaging your home. Our technicians will salvage your personal belongings, even your belongings that seem to be destroyed. Our technicians are experienced, efficient, and the best in the business. There is no other restoration service in northern Indiana that will clean as effectively as ServiceMaster by Monroe Restoration.
Our Fire Damage Restoration Services Include the Following Steps:
Emergency pre-cleaning
Content cleaning and pack-out
Wall and ceiling cleaning
Odor removal
Here at ServiceMaster by Monroe Restoration, we know just how devastating fire damage can be and we will work to salvage your home as quickly as we can. We use the most effective cleaning products, the most advanced restoration tools in the business and the most experienced technicians available. We use this to our advantage when providing quality fire damage restoration services to our customers in Michigan City, IN area. Contact us today and ask about our fire damage remediation services by calling (574) 231-7179. We are available 24 hours a day, 365 days a yea
---
Recent Reviews
---