Here at RestorationMaster, we understand that hoarding is a serious mental illness that there is no quick fix for. Hoarding can lead to a very unstable and unsafe home for the hoarder and their family. Hoarding can lead to the person collecting harmless items such as newspapers or unsafe and hazardous materials such as animals. We understand how difficult hoarding can be on family and loved ones and we are here to help.
How Can RestorationMaster Help?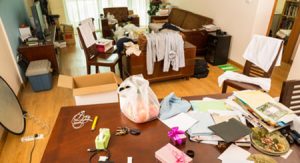 When someone deals with great stress and anxiety when parting with their possessions, we understand how difficult it can be to ask for help, which is why a large majority of our phone calls come from concerned family members that choose to ask for help. Our hoarder cleaning services take specific steps to make sure that both the hoarder and the hoarder's friends and family are comfortable with the process. Our process is meant to bring empathy to the situation while creating a safe living space for those involved. We have divided the process into three simple steps.
Communication – We aim to make the hoarder feel as comfortable with the process as we possibly can. We begin by receiving permission from the hoarder to enter their home and start the hoarder cleaning. We know the stress and anxiety that comes from departing with their precious items so we want to make certain that they are comfortable with the process.
Plan and Execution – Our staff will make an assessment and detailed plan of how to clean the property. We will speak with the hoarder and their family about which items to keep in the home and which items to dispose of. We will organize and clean the home so that it is livable again.
After the Hoarding Cleanup –Once we have completed the project, we make a plan with the hoarder and their family about how to maintain a clean home in the future. We will offer checkups to see if the hoarder could continue to keep their home clean. If the hoarder still needs further assistance, we will offer our services.
What Do We Do During a Hoarding and Estate Cleaning?
We find all valuable items in the home and allow our client to decide what they wish to do with it.
Our technicians will take care of the disposal of items.
We will assist with all legal paperwork to make certain that the hoarding cleaning is carried out legally.
If someone that you love has trouble parting with their belongings to the point that it significantly impacts their life and has created a dangerous living space for them, contact RestorationMaster immediately. We will create a safe environment while being sympathetic to the client's needs. We will make certain that the home is clean and safe to live in, and create an environment that would make any hoarder feel more than comfortable. We are in constant communication with the hoarder and their family and work to finish the job as quickly as possible. To inquire about hoarding and estate cleaning services in the Michigan City, Indiana area, call us at (574) 891-8076 for more information.
Related Hoarding Cleaning Services
Hoarding and Estate Cleaning Services in Goshen, Indiana
Hoarding Cleaning Services in Hammond, Indiana
Hoarding Cleaning Companies in Valparaiso, Indiana
Hoarding Cleaners in South Bend, Indiana
Hoarding Cleaning in Mishawaka, Indiana