Hundreds of people struggle with the problem of hoarding and don't know how to deal with it. While they might start cleaning with good intensions, they still can't bring themselves to be practical and clear hoarded items. They still end up keeping a large number of possessions they don't need. In such cases, we at RestorationMaster can help with our thorough hoarding and estate cleaning in Valparaiso, IN.
Why Call RestorationMaster?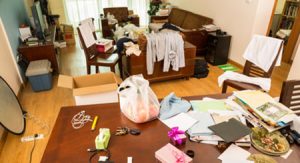 We have worked on several such projects before and always treat the items and their owner with respect. We honestly want to help our customers overcome the problem of hoarding and offer tips and recommendations on cleaning plans and techniques after our job is done.
What Do We Do during Hoarding and Estate Cleaning?
We work in three stages to ensure the hoarded items are handled carefully and methodically.
Speaking with the Owner – Our first step is to speak with the owner and gain their permission for hoarding cleaning. We believe in working with the owner because this has a positive impact on them in the long run. Once we have their permission, we proceed to clear the hoard thoroughly and completely.
Planning – The next step is to assess the size and number of the accumulated hoard and plan how to sort and remove the items. We will reorganize the home after the hoard is cleared to ensure it is livable and clean.
Post-Job Consultation – After our job is done, we focus on maintenance. We provide a cleaning plan that would help you keep your home clean and make a few follow-up calls and visits to help you stay on the right track.
We understand that hoarding cleaning can be very difficult for the hoarder and we make sure to treat the individual with a sense of compassion and respect. If you know someone in the Valparaiso, IN area that could benefit from our hoarding cleaning services, give us a call. You can reach us any time at (574) 891-8076 for more information.
Related Hoarding Cleaning Services
Hoarding and Estate Cleaning Services in South Bend, Indiana
Hoarding Cleaning Services in Mishawaka, Indiana
Hoarding Cleaning Companies in Elkhart, Indiana
Hoarding Cleaners in Michigan City, Indiana
Hoarding Cleaning in Goshen, Indiana