Many people struggle with the problem of hoarding on a daily basis. They get attached to their possessions and just can't seem to discard them. Hoarding is considered a mental disorder and it is anxiety that prevents those affected from throwing anything away. When the hoarded items start taking up too much space, you need to take action and we at RestorationMaster can help with our hoarding cleaning services in Mishawaka, IN.
When Do You Need Our Hoarding Cleanup Services?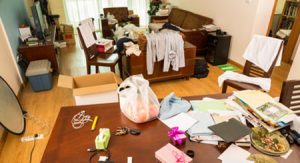 It takes an unbiased and practical approach to clean homes affected by hoarding and that can only happen if you have little to no sentimental attachment to the items. People who hoard possessions can't distance themselves and often keep items they don't need, even when they want to clean their home.
It helps to have a third-party to intervene and ensure your home is cleaned completely and efficiently. Our team members will help the affected individual make the tough decisions on what items should be kept or parted with. We'll sort through their possessions and single out items that are valuable or truly useful and systematically clean the entire home.
What is Our Hoarding Cleaning Process?
We work in three stages to ensure everything is done in a timely and efficient manner. This system has worked well for us for several years now and has helped past clients overcome their tendency to hoard.
Communication – Our first step is to communicate with the owner of the items. Our hoarding cleaners are always respectful, honest, and willing to work with the owner. We believe that clearing the hoard with the owner's consent has a positive impact on our client and helps them deal with the problem of hoarding. After we have permission to clear the hoard, we move on to the next step.
Creating a Plan – It's important to deal with hoarded items carefully and systematically. Some hoarded items can be hazardous and need to be handled and disposed of carefully. We identify and sort through all items and make a list of them for consultation later.
Consultation – Once all items are sorted and the list is prepared, we dispose of any dangerous and hazardous materials responsibly, help donate items that can prove useful to others, and hand over all valuables to you and your family.
Our hoarding services in Mishawaka, IN are reliable and trustworthy and our team will treat you and the situation with respect. We at RestorationMaster are always willing to help so just call (574) 891-8076 for more information.
Related Hoarding Cleaning Services
Hoarding and Estate Cleaning Services in Elkhart, Indiana
Hoarding Cleaning Services in Michigan City, Indiana
Hoarding Cleaning Companies in Goshen, Indiana
Hoarding Cleaners in Hammond, Indiana
Hoarding Cleaning in Valparaiso, Indiana