Natural disasters can leave behind a trail of devastation and property damage in their wake. Most people want to get their lives back on track as soon as possible after such traumatic events and our construction services in Mishawaka, IN can help. We have a team of expert contractors who can easily handle all construction challenges and will make sure your property is restored to its former glory.
We Handle Both Residential and Commercial Construction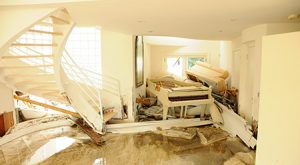 We understand that construction on residential property and commercial property needs to be handled differently and will plan the project accordingly. Our company has done restoration and repair work for several years now and knows how to get things done quickly and efficiently. We're great at sticking to deadlines and will make sure your property is inhabitable on time. This is especially true for our commercial construction projects because our customers have to reduce the downtime as much as possible.
What's Included in Our Construction Services?
We have an excellent team of designers and construction experts who can handle projects of all sizes. If your home has extensive water damage due to a recent flood, give us a call and we'll make sure your property is back in good shape quickly and at a reasonable price. Our services include:
Roof Related Repairs – All roof problems need to be addressed quickly because an unstable roof can collapse and cause considerable harm to your property and anyone living in it. Our restoration and repair experts will assess your roof thoroughly to check the damage. In most cases, we just need to fix the gutter and replace a few shingles because roofs are very resilient structures.
Floor Related Problems – Floors and carpets sustain a considerable amount of damage during floods, storms, and fires. We'll determine the extent of the damage and offer honest advice on repairs and restorations.
Plumbing and Electrical Wiring Related Problems– You can't use your commercial or residential property if your plumbing and electrical fixtures are damaged during a disaster. Damaged and leaking plumbing can create an unsanitary environment while loose wires can be hazardous so they need to be addressed immediately.
Our restoration construction services also include custom woodwork, painting and staining, redesign, window treatments, etc.
If you want reliable construction services in Mishawaka, IN, you don't need to look elsewhere. We at RestorationMaster would be happy to help. For more information, just call (574) 891-8076 today!