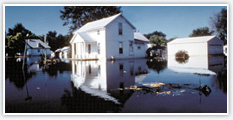 Water cleanup and restoration needs the attention and focus from ServiceMaster by Monroe Restoration, Mishawaka IN.  They have years of experience in the water restoration industry.  They have live operators available 24/7 and in most cases, can be on-site within a couple of hours of your initial call.  Water damage can come from many different sources such as pipe leaks, sump pumps failures or water softener leaks.  No matter the problem, ServiceMaster by Monroe Restoration is ready to help you in your time of need.  A quick response is essential to prevent further damage to your structure and belongings.  Mold can begin to grow within 72 hours of the initial water damage.  Their experienced technicians are well trained to efficiently dry your structure and minimize any further damage.
Water Damage Restoration in Mishawaka, IN Area
 ServiceMaster by Monroe Restoration, Mishawaka IN, technicians are continually training in the most up to date methods of restoration after water damage.  They will do everything in their power to minimize the loss of personal items after your disaster.  They follow IICRC recommended procedures.  They use equipment that will ensure your home is returned to its original state.  They use dehumidifiers, air movers, desiccants, air scrubbers and truck mount extraction methods to remove all water from your home.
Call ServiceMaster by Monroe Restoration
Many materials, such as wood, dry wall and furniture can absorb water rapidly, which in turn can ruin them quickly.  Starting water damage cleanup as soon as possible is very important in the recovery of your personal items. Water Restoration needs to be completed by a professional who can get the job done in a timely manner.  ServiceMaster by Monroe Restoration has the expertise to quickly turn your home to its original condition.
Choose professional water damage restoration services from ServiceMaster by Monroe Restoration, Mishawaka Indiana by calling us at 574-231-7179, 24/7 emergency hotline.
---
Recent Reviews
September 5, 2019
Todd Sobieralski
Niles, MI
ServiceMaster was quick to respond. Right from my first contact with Julie McMahon I got the feeling of reassurance that I had called the right company. David Korlowicz who coordinated everything was GREAT! Very professional, well trained and personable, as was everybody I was in contact with. So glad I called! Thank You! Todd Sobieralski
July 27, 2019
Austin & Rebecca Hart
Three Rivers, IN
We had the best experience with them considering our circumstances. Our basement flooded and they handled everything. The crew came out as soon as they received the call and was so nice. Dried out our basement, brought a dumpster for everything we lost and removed it for us. I would recommend them to anyone.
---