No one expects a personal tragedy like homicide or suicide to ever happen in their family or among their friends. Unfortunately, when it does happen, you are responsible for dealing with the cleaning in the aftermath. Biohazard clean up should be carried out as soon as the authorities have finished processing the scene and give their permission.
If the biological matter is allowed to linger, the decomposition can make the environment unsafe and unhealthy. At RestorationMaster, we provide biohazard cleaning services in Valparaiso, IN to ensure your property is clean and livable once again.
Why Do You Need Biohazard Cleaning Services?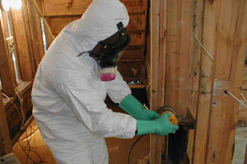 Blood, tissue, and other such biological matter are unsafe and contain dangerous pathogens that will cause serious illnesses. It's vital to remove them completely from your property and sanitize it. Normal cleaning techniques and over-the-counter cleaning solutions can't do the job thoroughly and the contamination can linger, which would make your living environment unhealthy.
Our efficient bio cleaning services will remove all traces of this biological matter as well as sanitize and deodorize the surface to ensure there are no traces left. When we perform this service, we remove all contaminated surfaces like curtains, carpets, cushions, etc. We attempt to salvage as much as we can, but only if the surface is completely clear of biohazard materials.
What Does Our Biohazard Cleanup Services Include?
Our bio cleanup services are thorough and methodical. We have experience in the industry and follow all rules, regulations, and guidelines provided by the state and federal authorities when we perform the cleanup. Our services include:
After Suicide Cleaning
Blood and Tissue Cleaning
After Death Cleaning
After Homicide Cleaning
Crime Scene Cleaning
Why Should You Hire RestorationMaster in Valparaiso, IN?
Our services are private and discreet. Our biohazard cleanup crew will arrive at your location in an unmarked van and will carry proper identification on their person.
They will comb through the entire property to ensure everything is cleaned and there are no traces of hazardous biological material left.
Our cleaners follow the right disposal procedures and have training in how to handle blood-borne pathogens safely.
You must never clean up biohazard materials yourself because mishandling them leads to the spread of infection and disease.  Make sure you call RestorationMaster if you need biohazard cleaning services in Valparaiso, IN.  You can reach us 24 hours a day at (574) 891-8076 for emergency biohazard cleaning services.