RestorationMaster
A serious accident is never something that is easy to deal with. It can be very traumatizing for friends and family to witness something that requires biohazard cleaning. Often, this involves things such as suicide, murder, or an accident. We would never want someone to relive that trauma by having to go through cleaning the mess left by such a devastating situation. At RestorationMaster, we are here to take the pain of cleaning up a trauma off your hands. We offer our biohazard cleaning services to those in the Michigan City, IN area.
What Are Biohazard Cleaning Services?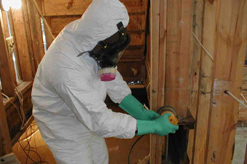 Biohazard cleaning is a unique cleaning service developed to assist individuals who have had a trauma take place on their property that leaves behind excess amounts of blood. Blood and other biological material must be cleaned thoroughly and carefully because decomposition of human materials can be a health hazard. It is very important that a home is cleaned thoroughly to eliminate all germs from biohazard materials. Once we have completed our biohazard cleaning process, the home will be safe to live in again. However, this cleaning must be done by a professional and not by a regular cleaner. The process involves chemicals that are not safe to use if you have not been properly trained. RestorationMaster is the best in the business and has the most training and experience to handle these chemicals and sanitize your home.
What's Included in Our Bio Cleaning Services
Our biohazard cleaning services include a wide range of situations. Simply call us and describe the situation and we will immediately plan to remove the biohazard materials and completely sanitize the area. Our services include:
Post Suicide Cleaning
Post Death Cleaning
Crime Scene Cleaning
Blood and Tissue Cleaning
Post Homicide Cleaning
Why Us?
All our cleaning technicians have had extensive training in the field in how to handle biohazard situations.
We always put safety first and follow all codes of conduct and laws regarding biohazard cleaning and safety.
Our technicians will make certain that your privacy is put first. Our cleaning crew will come to your home in an unmarked van.
Our technicians will be wearing protective gear and be properly equipped to dispose of all waste safely according to state and federal guidelines.
If a serious crime occurs in your home, be certain to call professionals that can take care of the situation properly. We are available 24 hours a day to answer all your inquiries and concerns and we are dedicated to providing you with a safe living area. We will remove all evidence that a tragedy ever happened. Contact RestorationMaster at (574) 891-8076 for biohazard cleaning services in the Michigan City, IN area.