A fire in a home or building is always an unexpected disaster that can cause serious injuries as well as devastating damage.  When a fire occurs, the number one priority is to ensure everyone's safety.  The fire damage restoration process must begin immediately after the fire is out because soot, smoke, and other corrosive byproducts continue to hang around and cause further damage to various surfaces and objects.
Fire and Smoke Damage Restoration in Goshen, Indiana
ServiceMaster by Monroe Restoration provides fire damage restoration services in Goshen, IN to clean up and repair damage caused by fire and smoke.  We can fully restore homes and businesses that have experienced a fire with our advanced cleaning products and equipment.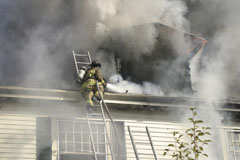 It is very important to remember that the damage does not end when the fire is out.  The heat from a fire causes synthetic materials to produce corrosive byproducts that can damage furnishings and household surfaces.  The smoke and soot also cause further damage as the soot causes etching and discoloration on affected surfaces and the smoke can leave a foul odor throughout the home or building.  Soot damage and damage from the corrosive byproducts can become permanent if it is not treated soon enough.
Fire and Smoke Damage Restoration Process
The technicians of ServiceMaster by Monroe Restoration are fully trained and IICRC certified to handle the worst cases of fire damage with advanced equipment and effective cleaning products.  We will immediately contain the spread of the damage and pre-clean surfaces and objects damaged by soot and corrosive byproducts to prevent permanent damage.  Our advanced chemical cleaners can clean and restore a range of household surfaces damaged by soot or corrosive byproducts and we also have the right equipment to remove smoke odor.
Our fire damage restoration process includes the following general steps:
Emergency pre-cleaning
Content cleaning
Content pack-out
Wall and ceiling cleaning
Odor removal
You must always make sure to evacuate and ensure that everyone is safe first thing when a fire occurs.  As soon as the fire department gives their approval, call ServiceMaster by Monroe Restoration for fire damage restoration to help limit the damage and get your home or business back to its previous condition.  We are available 24 hours a day at (574) 231-7179 to respond to fire damage emergencies in Goshen, IN.
Related Fire Damage Restoration Services
Smoke Damage Mitigation in Hammond, Indiana
Fire Damage Cleanup in Valparaiso, Indiana
Fire and Smoke Damage Restoration in South Bend, Indiana
Fire Damage Repair in Mishawaka, Indiana
Fire Damage Restoration Services in Elkhart, Indiana
---
Recent Reviews
February 26, 2020
Sherry Lynn Conley
Grabill, IN
December 19, 2019
David and Terri Lynn Mann
New Buffalo, MI
Your whole team has made us feel comfortable about the situation we are in! We were very upset in the beginnning because people would be going through our belongings! But you all made us feel so much better and comfortable with the process! The cleaning also was so great! You have also been getting it done in a reasonable amount of time! We appreciate that! Thank you so very much!
---